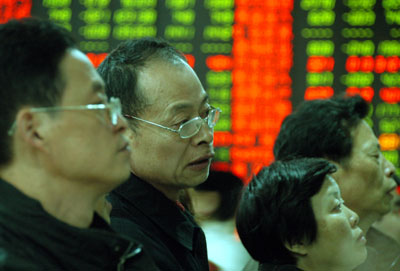 Investors look at stock information at a securities company in Shanghai February 27, 2007. [newsphoto]


China's stock market plummeted from record highs Tuesday as investors took profits when concerns arose that the Chinese government may try to temper its ballooning economy by raising interest rates again or reducing more of the money available for lending.

"Corrections usually happen because of a catalyst, and this may be it," said Ed Peters, chief investment officer at PanAgora Asset Management. "The move in China was a surprise, and when a major market has a shock it ripples through the rest of the market. With all the trade that goes on with China, there tends to be a knee-jerk reaction with that kind of drop."

The Shanghai Composite Index tumbled 8.8 percent to close at 2,771.79, its biggest decline since it fell 8.9 percent on Feb. 18, 1997. Since Chinese share prices doubled last year as investors poured money into the market after the completion of shareholding reforms, trading in Shanghai has been very volatile.

The Shenzhen Composite Index sank 8.54 percent on Tuesday to 709.81.

On Monday, the Shanghai index gained 1.4 percent to 3,040.60, extending a spate of record high closes.

Tuesday's fall in the Chinese market was caused not by any bad figures, or gloomy forecast. While some analysts cited pressure for profit taking as the major reason, others said the loss of about 800 billion yuan ($102 billion) in market capitalization was primarily triggered by a rumor about capital gains tax.

Well-renowned economist Wu Jinglian, a senior fellow with the Development Research Center of the State Council, has long called for collection of such a tax.

China Daily had no way to confirm that the government may be planning to levy a capital gains tax on investors but none of the government agencies has officially declared it was just a rumor either.

The government does not usually issue an official statement about something it was not doing or planning to do, according to Li Zhenning, president of Shanghai Rising Fund Management Co. He predicted that the market would pick up after one or two days.

The scale of the decline, however, surprised many.

He Jun, vice-president of Anbound Consultation Co, said: "Although the market index was at a high level and people were expecting a correction, what happened was astonishing."

The Shanghai index soared 130 percent last year.

He Jun said he had heard market rumors about a possible capital gains tax.

"This could have been a major trigger for such a plummet, promoting profit-taking funds to leave the market," he said.

But he believed the market would continue to be bullish this year.

Some analysts looked to the fundamentals to explain the unexpected fall.

Dong Chen, a senior analyst at CITIC China Securities, said: "Investors will unlikely be satisfied by the annual reports to be released by many listed companies. Their performance will provide no support for the high share prices."

Sources from Xiang Cai Securities said that the P/E ratio of the yuan-denominated A shares was double that of the world's average, indicating growing risks.

So yesterday's correction, Dong said, was "a good thing because it will pave the way for a healthy market in the long-run".

So long as China's macro-economic environment remains sound, investors still have a good chance to earn from the A-share market, analysts said.

Despite worries about too high share prices and management problems at large State-owned companies, analysts interviewed by China Daily all said the market stands a good chance this year.

Stephen Green, senior economist with the Global Research Division of Standard Chartered Bank, said the plunge has nothing to do with the overall economic situation.

"I don't think the drop is caused by the central bank's latest reserve ratio hike," he said.

The People's Bank of China, the central bank, required that commercial banks set aside 10 percent of their deposits starting February 25, up from 9.5 percent.

But Green said he sees at least one interest rate hike in the pipeline.

"You can lock some of the funds up in the banking system, but sooner or later if you want to control credit growth and investment, you simply have to make borrowing more expensive."

Globle Markets Plunge

US stocks had their worst day of trading since the Sept. 11, 2001, terrorist attacks, hurtling the Dow Jones industrials down more than 400 points on a worldwide tide of concern that the US and Chinese economies are stumbling and that share prices have become overinflated.

The steepness of the market's drop, as well as its global breadth, signaled a possible correction after a long period of stable and steadily rising stock markets that had not been shaken by such a volatile day of trading in several years.

| | | |
| --- | --- | --- |
| 1 | 2 | |