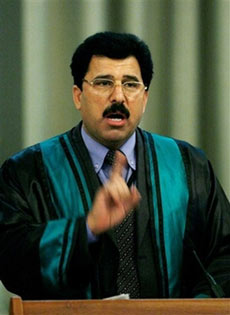 Defense attorney for Saddam Hussein, Khalil al-Dulaimi denounces the legitimacy of the court during the first day of the Anfal Campaign trial in Baghdad's heavily fortified Green Zone, Aug. 21, 2006. [AP]


Amman - Saddam Hussein's former chief lawyer said Sunday he plans to publish a book in the coming year disclosing secret information about the executed Iraqi leader.
Khalil al-Dulaimi, who served as Saddam's confidante and main legal counsel, said he would reprint up to 300 personal letters, poems and other miscellaneous works written by the deposed leader.
Al-Dulaimi said his book would also "clear up some points about facts that haven't yet been announced." He would not say whether he had already started writing it.
"I will write everything about the court, the Americans, and the way they used to treat him," al-Dulaimi said in a telephone interview.
"I'm also going to talk about how Baghdad fell at the hands of Americans and the way they entered and captured Baghdad," he added.
Saddam was sentenced to death in November for the killing of 148 Shiites in Dujail after a 1982 attempt to assassinate him. He was executed on Dec. 30 in an unruly scene that brought worldwide criticism of the Iraqi government.
Video of the execution, recorded on a cell phone camera, showed the former dictator being taunted as he stood with a noose around his neck on the gallows.