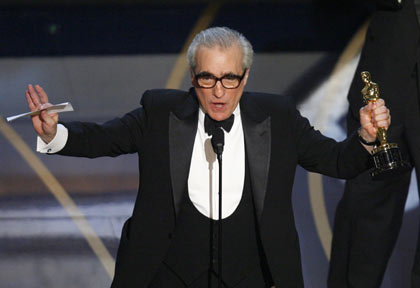 Martin Scorsese accepts his Oscar for best director for 'The Departed' at the 79th Annual Academy Awards in Hollywood, California, February 25, 2007. [Reuters]
Related: Stars shine on red carpet
Los Angeles - The mob saga "The Departed" won the best-picture Academy Award on Sunday, a triumph for a homegrown American film in an evening that featured the most internationally diverse field of nominees in the history of Hollywood's highest honors.
Related readings:


'Dreamgirl' Jennifer Hudson wins Oscar


Arkin wins supporting-actor Oscar


Partial list of Oscar winners


Diverse set of nominees grace red carpet


Oscar gala to be unveiled


Wide-open races may boost Oscars ratings


"Dreamgirls" no sure thing for Oscar song win

Martin Scorsese finally won the best-director Academy Award that had eluded him throughout his illustrious career, taking the prize for his mob epic "The Departed" after five previous losses.

Forest Whitaker earned the best-actor Oscar for "The Last King of Scotland," in which the soft-spoken actor played an uncharacteristically flamboyant role as Ugandan dictator Idi Amin.

Helen Mirren reigned, winning best actress for her portrayal in "The Queen" of British monarch Elizabeth II facing ebbing loyalty after the death of Princess Diana.

Jennifer Hudson won the supporting-actress Oscar for "Dreamgirls," though her co-star and fellow front-runner Eddie Murphy lost the supporting-actor prize to Alan Arkin of "Little Miss Sunshine."

"More than anything, I'm deeply moved by the open-hearted appreciation our small film has received, which in these fragmented times speaks so openly of the possibility of innocence, growth and connection," said Arkin, who plays a foul-mouthed grandpa with a taste for heroin in the road comedy.

Hudson won an Oscar for her first movie, playing a powerhouse vocalist who falls on hard times after she is booted from a 1960s girl group. The role came barely two years after she shot to celebrity as an "American Idol" finalist.

"Oh my God, I have to just take this moment in. I cannot believe this. Look what God can do. I didn't think I was going to win," Hudson said through tears of joy. "If my grandmother was here to see me now. She was my biggest inspiration."

"Little Miss Sunshine," which came out of the low-budget independent world to become a commercial hit and major player in Hollywood's awards season, also won the original screenplay Oscar for first-time screenwriter Michael Arndt.

The film follows a ghastly but hilarious road trip by an emotionally messed-up family rushing to get their darling girl (10-year-old supporting-actress nominee Abigail Breslin) to her beauty pageant.

"When I was a kid, my family drove 600 miles in a VW bus with a broken clutch," Arndt said, describing a road trip that mirrored the one in the film. "It ended up being one of the funnest things we did together."

The nonfiction hit "An Inconvenient Truth," a chronicle of Al Gore's campaign to warn the world about global warming, was picked as best documentary.

"People all over the world, we need to solve the climate crisis. It's not a political issue. It's a moral issue," Gore said, joining the film's director, Davis Guggenheim, on stage.

"An Inconvenient Truth" also won original song for Melissa Etheridge's "I Need to Wake Up."

"Mostly, I have to thank Al Gore for inspiring me, showing me that caring about the earth is not Republican or Democrat, it's not red or blue. It's all green," Etheridge said.

Earlier, Gore appeared with best-actor nominee Leonardo DiCaprio to praise organizers for implementing environmentally friendly practices in the show's production.

DiCaprio set up a gag with Gore, asking the 2000 presidential candidate if there was anything he wanted to announce.

"I guess with a billion people watching, it's as good a time as any. So my fellow Americans, I'm going to take this opportunity here and now to formally announce my intentions ...," Gore said, his voice trailing away as the orchestra cut him off.

Composer Gustavo Santaolalla won his second straight Oscar for original score for "Babel," a film "that helped us understand better who we are and why and what we are here for," he said. He won the same prize a year ago for "Brokeback Mountain."

The dancing-penguin musical "Happy Feet" won the Oscar for feature-length animation, denying computer-animation pioneer John Lasseter ("Toy Story") the prize for "Cars," which had been the big winner of earlier key animation honors.

"I asked my kids, `What should I say?' They said, `Thank all the men for wearing penguin suits,'" said "Happy Feet" director George Miller.

The savage fairy tale "Pan's Labyrinth" took the first two Oscars, for art direction and makeup, the wins for the Spanish-language film kicking off an Oscar evening stuffed with contenders from around the world. "Pan's Labyrinth" also took the cinematography Oscar.

"To Guillermo del Toro for guiding us through this labyrinth," said art director Eugenio Caballero, lauding the writer-director of "Pan's Labyrinth," the tale of a girl who concocts an elaborate fantasy world to escape her harsh reality in 1940s Fascist Spain.

Germany's "The Lives of Others," about a playwright and his actress-girlfriend who come under police surveillance in 1980s East Berlin, won the foreign-language Oscar, the films it beat including "Pan's Labyrinth."

"Letters From Iwo Jima" won the sound-editing Oscar for Alan Robert Murray and Bub Asman. Murray's father was an Iwo Jima survivor.

"Thank you to my father and all the brave and honorable men and women in uniform who in a time of crisis have all made that decision to defend their personal freedom and liberty no matter what the sacrifice," Murray said.

The record holder for Oscar futility, sound engineer Kevin O'Connell, extended his losing streak to 19 nominations without a win. This time, O'Connell and two colleagues were nominated for sound mixing on "Apocalypto," Mel Gibson's portrait of the savage decline of the ancient Mayan empire, but they lost to another trio of sound engineers that worked on "Dreamgirls."

"Apocalypto" lost in all three categories in which it was nominated, all for technical achievements. Gibson, whose "Braveheart" was the big winner at the 1995 Oscars, had been condemned by many in Hollywood for an anti-Semitic rant he made during his drunken-driving arrest last summer.

Once an evening of backslapping and merrymaking within the narrow confines of Hollywood, the Academy Awards this time looked like a United Nations exercise in diversity.

The 79th annual Oscars feature their most ethnically varied lineup ever, with stars and stories that reflect the growing multiculturalism taking root around the globe.

"What a wonderful night. Such diversity in the room," said Ellen DeGeneres, serving as Oscar host for the first time, "in a year when there's been so many negative things said about people's race, religion and sexual orientation.

"And I want to put this out there: If there weren't blacks, Jews and gays, there would be no Oscars," she said, adding: "Or anyone named Oscar, when you think about that."

Competing for best picture was Mexican director Alejandro Gonzalez Inarritu's "Babel," a sweeping ensemble drama. The film's cast ranges from A-listers such as Brad Pitt and Cate Blanchett to comparative unknowns Adriana Barraza from Mexico and Rinko Kikuchi from Japan, who both earned supporting-actress nominations for "Babel."

Also in the running were Stephen Frears' classy British saga "The Queen," a portrait of the royal family in crisis, and Clint Eastwood's Japanese-language war tale "Letters From Iwo Jima."

Those films joined two idiosyncratic American stories nominated for best picture, Jonathan Dayton and Valerie Faris' road comedy "Little Miss Sunshine" and Martin Scorsese's crime epic "The Departed."

Though set among the distinctive cops and mobsters of Boston, "The Departed" had a global connection, it was based on the Hong Kong crime thriller "Infernal Affairs." The film won the adapted-screenplay Oscar for William Monahan, who thanked Scorsese and "The Departed" star DiCaprio, a best-actor nominee.

"Thanks to Marty and Leo for reading the script and calling each other and saying let's make it," Monahan said.

With a Directors Guild of America award and other top film honors behind him, Scorsese was considered a shoo-in to earn the directing Oscar, a prize that has eluded him throughout his illustrious career.

The best-picture race was up for grabs, with all five films in the running but many Oscar watchers generally figuring it was a three-way race among "Babel," "The Departed" and "Little Miss Sunshine."

Organizers at the Academy of Motion Picture Arts and Sciences hoped the suspense of the wide-open best-picture category would help offset moviegoers' relative lack of interest in the competing films.

TV ratings for the Oscars tend to be lower when fewer people have seen the top nominees. Collectively, the five best-picture nominees had drawn a total domestic theatrical audience of about 38.5 million people, about a third the number of fans who have gone to see the contenders in recent peak years when such blockbusters as "Gladiator" or "The Lord of the Rings: The Return of the King" have won.