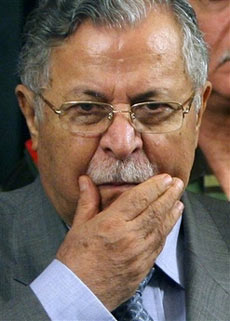 Iraq's President Jalal Talabani pauses after announcing new security plans for the country in this Aug. 2, 2006 file photo, in the fortified Green Zone area of Baghdad, Iraq. [AP]


Amman - Iraqi President Jalal Talabani fell ill Sunday and was rushed unconscious to a hospital before being flown to neighboring Jordan for an immediate medical checkup, medical and government officials said.

Talabani's son, Qubad Talabani, said his father was suffering from fatigue and exhaustion.

"He did not have a heart attack" or a stroke, he told CNN. He said his father had "made his own way off the plane" when he landed in Jordan.

"He's absolutely up and about, being able to communicate," the president's son said.

Iraq's ambassador to Jordan, Saad Al-Hayyani, told The Associated Press Talabani had not suffered a heart attack or stroke.

A brief statement issued by Talabani's office said the 73-year-old president had fallen ill because of "continuing hard work over the past few days," but added there was "no cause for worry."

Talabani arrived at Amman's King Hussein Medical City in a motorcade flanked by police cars. A doctor said earlier he would be admitted to the heart center at the facility because it has sophisticated and modern equipment, not necessarily because the president suffers from a heart ailment.

Several Arab leaders have been treated at the hospital in the past, including the late Palestinian leader Yasser Arafat.

"It appears that his medical condition is not worrisome" because he is not being flown in by a helicopter or transported in an ambulance, the doctor said on condition of anonymity because he is not authorized to speak to the media.

A doctor in Sulaimaniyah, Talabani's hometown, told the AP that the president was unconscious when an ambulance rushed him to a hospital there earlier Sunday.

"After his condition stabilized, the doctors advised him to go to Jordan for a complete check up," the doctor said on condition of anonymity because he was not authorized to release the information.

Talabani, a Kurd, appeared in public Saturday in Sulaimaniyah where he met with US Ambassador Zalmay Khalilzad and Massoud Barzani, leader of the self-ruled Kurdish region in northern Iraq.

Senior Kurdish politician Barham Saleh said Talabani was on his feet when he headed for a meeting Sunday with top aides shortly before he left for Jordan. Saleh, a deputy prime minister, said members of Talabani's immediate family accompanied him to Amman.

An official at Talabani's Patriotic Union of Kurdistan party said the president has a long history of fainting when he is exhausted -- a condition dating back to his years as a Kurdish guerrilla leader fighting Saddam Hussein's regime decades ago.

The official also spoke on condition of anonymity because of the sensitivity of the subject.

Under Iraq's interim constitution, the president serves as the country's titular head of state. The prime minister runs the government.