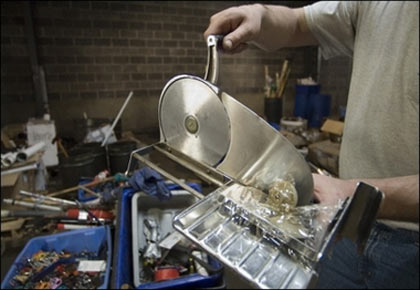 A worker holds a manual slicer at the Commonwealth Garage and Warehouse in Harrisburg, PA. [AFP]


Harrisburg - What happens to those scissors, lighters and the occasional machete confiscated at US airports? Some land in an Ali Baba-style cave here, to be auctioned on eBay.
"We collect items from 12 different airports, including JFK and LaGuardia in New York, but also at Boston, Philadelphia and Syracuse," said Ed Myslewicz, spokesman for the State Agency for Surplus Property (SASP) at the Harrisburg, Pennsylvania airport.
Each month, two tonnes of merchandise is sorted, photographed and put up for sale on eBay.
"The program started in June 2004, and the idea was to generate new revenues for the state," he said.
And it works: Up to 98 percent of the stuff is sold, according to Myslewicz.
To one side of the warehouse, merchandise -- including baseball bats, golf clubs and even a catapult -- arrives in 200-liter (55-gallon) drums or other containers.
"Don't ask me why people want to take these kinds of items with them on a plane," said Mary Beth Enggren, marketing director for the SASP, standing amid boxes of pocket knives and scissors.
Items seemingly innocuous before September 11, 2001 but caught in the tightened security net following the attacks also clog the warehouse: large flashlights, snow globes filled with liquid, handcuffs, toy guns and pointy belt buckles.
Red bricks, a bottle of perfume shaped like a grenade, food processors, electric drills, horseshoes and a snow shovel are also among the banned booty.
"And we also have our hall of fame," Enggren said. On the wall hang a bow and a quiver of arrows, a wooden saber, an old wooden pistol, a realistic-looking plastic grenade, a 30-centimeter (12-inch) metal pipe wrench and a good-sized machete.
Mike Hooks, one of the employees who sorts the merchandise for sale, has his favorite: "What surprised me the most up till today was a semi-automatic pistol, 40 caliber."
"That we cannot sell on eBay," Enggren said.
Still, the operation has netted US$360,000 after eBay's commission, money that funds social programs in the northeastern US state of Pennsylvania.
Other states also take part in the program, according to Amy Kudwa, spokeswoman for the US Transportation Security Administration, which sets the rules on what may be brought aboard airplanes.
Kudwa said 13.7 million items were collected at US airports in 2006, including 11.6 million lighters.
The figures do not include liquids, gels and creams that have been confiscated since August, which go directly to the trash dump.