BEIJING - US top negotiator Christopher Hill to the six-party talks hoped for success out of the upcoming six-party talks when arriving at the Chinese capital Wednesday afternoon.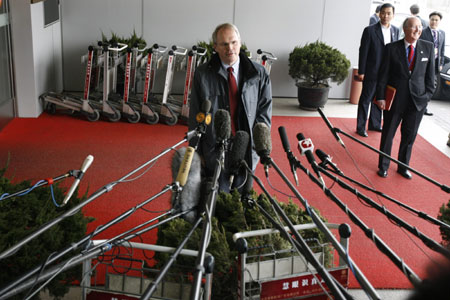 US Assistant Secretary of State and chief negotiator Christopher Hill speaks to journalists upon arriving for the six-party talks in Beijing February 7, 2007. The United States urged North Korea to suspend nuclear processing as envoys to six-party talks aimed at curbing North Korea's atomic ambitions began converging on Beijing on Wednesday. [Reuters]


"This is an very important session," said Hill, US assistant secretary of state, noting "We all know what we need to accomplish, and we all hope success,"
The third phase of the fifth round six-party talks will start from Thursday, Chinese Foreign Ministry announced on January 30, without saying how long the new talks will last.
"I want to emphasize the real success is we completed the joint statement of 2005, not just a start," said Hill.
Hill had just visited the Republic of Korea and Japan to coordinate their positions. "We all work hard for the consultation at all those places. Let's see what we can achieve," he added.