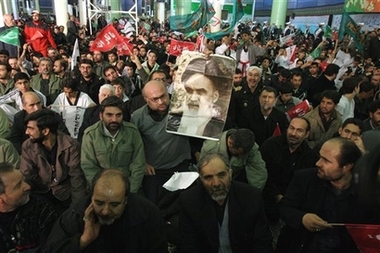 An Iranian man holds a picture of the late revolutionary foundar Ayatollah Khomeini at his mausoleum, just outside Tehran, Iran, Thursday, Feb. 1, 2007, in a ceremony commemorating the 28th anniversary of his return from exile. On Feb. 1, 1979, after 14 years in exile, Ayatollah Ruhollah Khomeini returned from Paris and became the de facto leader of Iran. [AP]


TEHRAN, Iran - Iranian President Mahmoud Ahmadinejad launched anniversary celebrations Thursday for Iran's Islamic Revolution with a defiant promise to push ahead with the country's controversial nuclear program.
Ahmadinejad suggested Tehran would announce next week that it is beginning to install a new assembly of 3,000 centrifuges in an underground portion of its uranium enrichment facility at Natanz that the U.S. has warned could bring further sanctions against the country.
The Iranian leader said his government is determined to continue with its nuclear program, despite U.N. Security Council sanctions imposed over its refusal to halt uranium enrichment, a process that can produce fuel to generate electricity or for the fissile core of an atomic bomb.
Kicking off 10 days of celebrations to mark the 28th anniversary of the 1979 Islamic revolution that brought hard-line clerics to power, Ahmadinejad said Iran will celebrate next week "the stabilization and the establishment of its full right" to enrich uranium at the facility.
The chief of the U.N. nuclear watchdog agency, Mohamed ElBaradei, said last week that he expected Iran to announce "they are going to build up their 3,000 centrifuge facility" in February. There had been speculation the announcement could come during the revolution anniversary.
U.S. Undersecretary of State Nicholas Burns said Iran would face "universal international opposition" over the step. "If they think they can get away with 3,000 centrifuges without another Security Council resolution and additional international pressure, then they are very badly mistaken," Burns said last week
The installation would be a major jump in Iran's uranium enrichment program, though it could take months to set up the 3,000 centrifuges and get them working. In the process, uranium gas is spun at supersonic speeds in a connected array of centrifuges to purify it. Uranium enriched to around 5 percent is used for fuel for a nuclear reactor; enriched to 95 percent, it can be used to build a warhead.
Iran now has two cascades of 164 centrifuges each. Tens of thousands are needed for a continuous program. The status of the new centrifuges has been unclear as Iranian officials gave contradictory statements over the past month. Tehran originally said last year that the installation would begin by the end of 2006, but January came and there was no word the work had started.
On Sunday, an Iranian lawmaker said installation had begun, but he was quickly contradicted by officials from the country's Atomic Energy Organization. Mohammad Saeedi, the agency's deputy head, said, "If we begin to install centrifuges, we will publicly announce it."

| | | |
| --- | --- | --- |
| 1 | 2 | |