ISLAMABAD, Pakistan - Pakistan's army destroyed three suspected al-Qaida hideouts in an air strike near the Afghan border on Tuesday, killing several members of the terror group, an army spokesman said.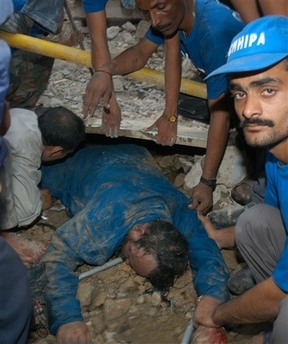 Pakistani firefighters and volunteers try to remove the dead body of firefighter from collapsed debris at a garment factory after a blaze in Karachi, Pakistan, Monday, Jan 15, 2007. [AP]


The military carried out the operation in South Waziristan tribal region after receiving information that 25 to 30 al-Qaida members were hiding there, said army spokesman Maj. Gen. Shaukat Sultan.

"We believe most of them were killed, but we don't have a body count," he said.

Sultan said some terror group members at the sites were foreigners, but "no high-value target was believed to be there."

Sultan said the destroyed al-Qaida hideouts were in an isolated area near the village of Zaoola, which is close to North Waziristan where the government in September signed a controversial peace deal with tribal elders to halt military operations against militants.

In return, local militants and tribal elders at the time promised to not provide shelter to any foreign militants, nor target Pakistani security forces and pro-government elders.

However, the government has not signed any such deal in South Waziristan, where the military has carried out scores of operations against al-Qaida and their local supporters since the September 11, 2001, attacks in the United States.

Pakistan, a key ally of the United States in its war on terror, has deployed about 80,000 troops in its tribal regions, mostly in North and South Waziristan in an effort to flush out militants.