BAGHDAD, Iraq - The Iraqi government's attempt Monday to close a chapter on Saddam Hussein's repressive regime - by hanging two of his henchmen - only appeared to anger many of Saddam's fellow Sunni Muslims after the former leader's half brother was decapitated on the gallows.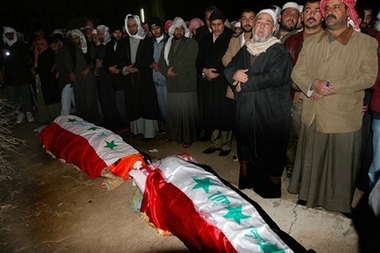 People pray beside the coffins of Barzan Ibrahim, Saddam's half brother and former intelligence chief, and Awad Hamed al-Bandar, former head of Iraq's Revolutionary Court who were executed at dawn Monday in Baghdad, in the town of Ouja, 115 kilometers (70 miles) north of Baghdad, Iraq, Monday Jan. 15, 2007. [AP]


A thickset Barzan Ibrahim plunged through the trap door and was beheaded by the jerk of the thick beige rope at the end of his fall, in the same the execution chamber where Saddam was hanged a little over two weeks earlier.

A government video of the hanging, played at a briefing for reporters, showed Ibrahim's body passing the camera in a blur. The body came to rest on its chest while the severed head lay a few yards away, still wearing the black hood pulled on moments before by one of Ibrahim's five masked executioners.

The decapitation appeared inadvertent, and Iraqi officials seemed anxious to prove they hadn't mutilated Ibrahim's remains.

The hangings came as a suicide car bomber slammed into an Iraqi army patrol in the northern city of Mosul Monday, killing seven people and wounding 40 others, police said. A total of at least 55 people were killed or found dead across Iraq, authorities said.

The US military, meanwhile, announced the deaths of two more soldiers, both killed in Baghdad.

While Ibrahim's body was wrenched apart by the execution, his co-defendant, Awad Hamed al-Bandar, head of Saddam's Revolutionary court, died as expected - swinging at the end of a rope. Both men met death at 3 a.m. wearing reddish orange prison jumpsuits.

Prosecutor Jaafar al-Moussawi, who witnessed the hangings, said Ibrahim looked tense and protested his innocence as he was brought into the chamber. The condemned man had once ran Saddam's feared security agency, the Mukhabarat.

"I did not do anything," al-Moussawi quoted Ibrahim as saying. "It was all the work of Fadel al-Barrak." Al-Barrak ran two intelligence departments in Saddam's feared Mukhabarat.

Saddam was hanged amid shouted taunts and insults from Shiite witnesses - a scene Iraqi officials said was not repeated Monday.

All three executions took place in Saddam-era military intelligence headquarters, located in the north Baghdad neighborhood of Kazimiyah, a Shiite area.

By day's end at least 3,000 angry Sunnis, many firing guns in the air, others weeping or cursing the government, assembled for the burials of Ibrahim and al-Bandar in Saddam's hometown of Ouja, near Tikrit, 80 miles north of Baghdad.

"Where are those who cry out in demands for human rights?" Marwan Mohammed, one of the mourners, asked in grief and frustration. "Where are the UN and the world's human rights organizations? Barzan had cancer. They treated him only to keep him alive long enough to kill him. We vow to take revenge, even if it takes years."

Ibrahim's son-in-law, Azzam Saleh Abdullah, said "we heard the news from the media. We were supposed to be informed a day earlier, but it seems that this government does not know the rules."

The execution, he said, reflected what he called the Shiite-led government hatred for Sunnis. "They still want more Iraqi bloodshed," he said. "To hell with this democracy."

The executed men, at their request, were buried in a garden outside a building Saddam had built for religious events. Saddam was buried there on New Year's eve in a grave chipped out of an interior floor.

Ouja, just outside Tikrit - about a 90-minute drive north of Baghdad on the Tigris River - is near the scene of Saddam's capture by American soldiers in December 2003.

Saddam was discovered hiding in a small underground bunker nine months after he fled the US-led invasion that toppled his regime.

Saddam, Ibrahim and al-Bandar were all handed the death sentence after their conviction for crimes against humanity, in connection with the killings of 148 Shiites in Dujail, north of Baghdad, in 1982 - following a failed assassination attempt there against Saddam.

Saddam was executed last month, four days after an Iraqi appeals court upheld the verdicts in the Dujail case. Reportedly, the court was under pressure from Prime Minister Nouri al-Maliki, who wanted Saddam hanged before the end of 2006.

| | | |
| --- | --- | --- |
| 1 | 2 | |