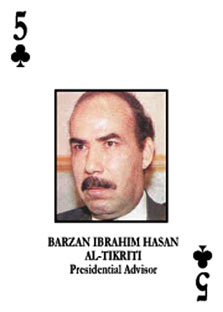 An undated handout file photo shows Former Iraqi president Saddam Hussein's half-brother Barzan al-Tikriti on the five of clubs card in a US pack of cards of 55 most-wanted Iraqis distributed to troops. [Reuters]


Baghdad - Amid conflicting reports and what appeared to be an attempted media blackout, a lawyer for one of Saddam Hussein's co-defendants said the former Iraqi president's two condemned aides were hanged at dawn on Monday.

Badia Aref told CNN that the son of his client, former judge Awad al-Bander, had been told by US officials that Bander and Saddam's half-brother and former intelligence chief Barzan al-Tikriti had been hanged, 16 days after Saddam himself.

He later told Al Arabiya television: "One hour ago, or even less than one hour ago, the Americans told (his family) to get ready to collect his body ... His son is with me now, but he cannot talk because he's praying."

US-funded Al Hurra television, which first reported Saddam's execution, quoted an Iraqi government source also saying the pair had been executed.

However, few officials involved in the court were available for comment except for senior prosecutor Munkith al-Faroon -- and he, although quoted in one media report as confirming the executions, then repeatedly denied any knowledge of the deaths.

Iraqi state television carried his denial in a screenflash.

The chief prosecutor in the case, Jaafar al-Moussawi, told Reuters he was unaware of an execution and seeking information. By law, one of the prosecution team must be present at hangings.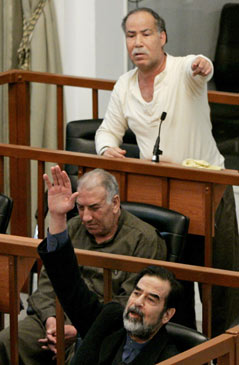 Former Iraqi president Saddam Hussein (front) and his co-defendant Barzan Ibrahim al-Tikriti (back) gesture during their trial in Baghdad in this February 13, 2006 file photo. [Reuters]

Controversy over Saddam's hanging has made Iraqi officials reluctant to speak on the record about some elements of it and some have previously made contradictory remarks in public.

The emergence of illicit mobile phone video showing Saddam being taunted by Shi'ite observers at his execution on December 30, four days after his appeal failed, angered many in his Sunni Arab minority, embarrassed the Shi'ite-led government and the U.S. administration and raised sectarian tensions.

A US military spokesman and a US embassy spokesman said they were unaware of the deaths. The Iraqi government spokesman has scheduled a news conference for 10:30 am (0730 GMT). It was announced on Sunday and the subject was not given.

Barzan was a feared figure in Iraq at the head of the intelligence service in the 1980s. Bander presided the Revolutionary Court which sentenced 148 Shi'ite men and youths to death after an assassination attempt on Saddam in the town of Dujail in 1982. With Saddam, they were convicted on November 5 of crimes against humanity by the US-sponsored High Tribunal.