Profile: Barzan, Saddam's banker and torturer in chief
BAGHDAD - In Geneva, Barzan Ibrahim al-Tikriti was Saddam's dapper "banker in the West" but in Iraq he was his brother's ruthless enforcer, a man who ate grapes as he watched torture and was reputed to have a meat grinder for human flesh.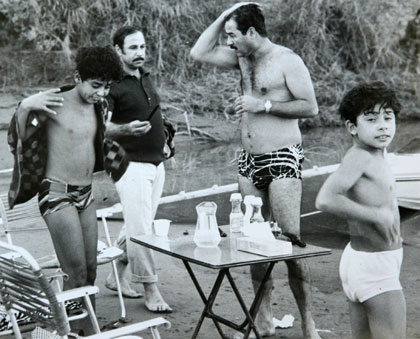 Saddam Hussein (2nd R) chats with his intelligence chief and half-brother, Barzan al-Tikriti (2nd L) as his sons Uday (L) and Qusay walk past in an undated holiday photo from the private archive of an official photographer for the regime. [Reuters]


His death was as grisly as some of those he inflicted on others. His head was ripped from his body by the hangman's noose as he plunged through the trapdoor of the gallows, according to a government spokesman who called it a rare mishap.

Barzan was hanged on Monday with former chief judge Awad Hamed al-Bander, both found guilty with Saddam Hussein of crimes against humanity in the killing of 148 Shi'ites from Dujail after a failed assassination attempt on Saddam in 1982.

One of Saddam's three half-brothers, and 14 years his junior, Barzan was a former head of the Mukhabarat intelligence service and one of the most feared men in Iraq.

A witness at his trial said Barzan had personally supervised his torture with electric shocks in Baghdad in the 1980s, and had eaten grapes while the man screamed in agony. Another witness described how Barzan beat her and broke her ribs after she was hung naked from the ceiling by her feet.

Prosecution witness Ahmed Hassan described being taken to Barzan's interrogation facility in Baghdad and seeing a meat grinder for human flesh.

Barzan was said to have roamed Dujail with a sniper rifle firing indiscriminately after the attack on Saddam's motorcade.

"Barzan was present. He had red cowboy boots and blue jeans and a sniper rifle," Hassan told the court.

Widely circulated film of him viciously kicking a man who lies cowering on the floor sealed his image as Saddam's enforcer.

Barzan was captured by US special forces in Baghdad in April 2003. His home near Ramadi, which was also an operations center for the intelligence service, had been targeted by US "smart bombs" during the war. He was the five of clubs in a US deck of playing cards representing the most wanted men in Iraq.

As intelligence chief, Barzan was accused of ordering mass murder and torture, and of personally taking part in human rights abuses, including the destruction of Kurdish villages.

After one of his frequent, and lengthy, tirades in court, Judge Raouf Abdel Rahman told him: "Enough blood. Your hands have been saturated with blood since your childhood."

FROM COWBOY BOOTS TO TAILORED SUITS

Barzan ran Iraq's intelligence service from 1979 to 1983 but fell out of favour over his hatred for Lieutenant-General Hussein Kamel Hassan, who married Saddam's daughter Raghd.

Hussein Kamel was eventually killed upon return to Iraq in 1996 after a brief defection to Jordan.

Barzan, who was born in February 1951 in Tikrit, resurfaced as Iraq's ambassador to the United Nations in Geneva from 1988 to 1997. One of his roles there was as Iraq's envoy to the Conference on Disarmament, which was holding preliminary talks on nuclear bomb making fissile material.

"He was deliberately ambiguous. It was all smoke and mirrors," a former western diplomat in Geneva told Reuters this month. The former diplomat recalled Barzan was always dressed in elegant tailored suits.

"He was said to be Saddam's banker in the West."

In 1993, Barzan's then teenage eldest daughter married Saddam's playboy eldest son Uday. Uday later rejected her and sent her back to her father.

After serving nearly a decade in the Swiss city, Barzan was called back to Baghdad in late 1998 after his wife died of cancer. But he returned regularly to Geneva to visit his six children who stayed to complete their studies.

Loyal to Saddam to the end, Barzan was a colourful presence in court. In January, when Saddam stormed out of a hearing, Barzan was dragged out by guards after refusing to keep quiet and calling the trial "a daughter of a whore".

At another hearing while disputing prosecution documents he had allegedly signed, he pointed to the movie "Catch Me If You Can" with Leonardo DiCaprio, which dramatises the true story of a teenaged conman who stole more than $2.5 million, as an example of how easy it would be to forge a signature.

Forced to attend the court against his will when the defendants were boycotting proceedings, he turned up in what appeared to be his pyjamas.

Barzan was suffering from cancer but that did not stop him mounting spirited attacks on the court and its US backers.

Taking the stand in his own defence last March, he said Saddam had a right to punish those who tried to kill him, but denied any part in the reprisals, saying: "My hands are as clean as Moses' hands. I have no blood on my hands."



| | | |
| --- | --- | --- |
| | 1 | 2 |