TEHRAN - The commander of Iran's Revolutionary Guards said on Sunday the United States, Britain and Israel were an "axis of evil" trying to drive a wedge between Shi'ite and Sunni Muslims.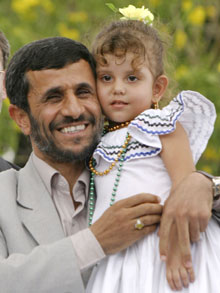 Iran's President Mahmoud Ahmadinejad poses with a girl during a visit to a suburb of Managua January 14, 2007. [Reuters]

US President Bush originally labeled Iran, North Korea and Iraq -- before US troops invaded -- as part of an "axis of evil." Washington accuses Iran of backing terrorism and trying to build atomic bombs, charges Tehran denies.

"America, Britain and the Zionist regime (Israel) are an axis of evil against the Islamic world and the whole of humanity," Guards Commander-in-Chief Yahya Rahim Safavi was quoted as saying by Iran's student news agency ISNA.

"They are trying to make enmity among Islamic countries and to make divisions among Shi'ites and Sunnis," he said.

He was echoing comments by other Iranian officials who have accused Washington of stoking sectarian tensions in Iraq where the majority of Iraqis are Shi'ite Muslims, like most Iranians. Washington blames Iran for fuelling violence in Iraq.

"Our powerful country does not worry about American and Zionist regime threats and in case of any kind of attack by intruders, we are able to defeat them," he added.

A British newspaper this month said Israel had drawn up secret plans to destroy Iran's uranium enrichment facilities -- the part of Iran's nuclear program that most worries the West -- using tactical nuclear weapons. Israel would not comment on the story, which touched on its assumed atomic arsenal.

The United States has said it wants to resolve Iran's nuclear dispute with West diplomatically, but has refused to rule out using force if diplomacy fails.

Ahmadinejad: US hiding failures in Iraq

Iran's president said the United States is trying to hide its failures in Iraq by accusing his nation of funding Iraqi insurgents, and he pledged to form an anti-US alliance with "revolutionary countries" in Latin America as he toured the region courting new allies.

Speaking to reporters Sunday on the sidelines of his meeting with Nicaraguan President Daniel Ortega, Mahmoud Ahmadinejad ducked a direct question about whether his country was arming and supporting insurgents responsible for countless attacks in Iraq.

He said the charges were merely an attempt by the United States "to cover their failures by other means."

"But they have been discredited and they can't recover from that," he said.

Ahmadinejad said the United States' "attitude won't solve their problems" in Iraq, and he accused the United States of ignoring the Iraqi people.

Ahmadinejad was in Managua as part of a whirlwind tour of Latin America's newly inaugurated leftist leaders. He met with close ally and Venezuelan leader Hugo Chavez on Saturday, then was scheduled to attend the inauguration of Ecuador's new president, Rafael Correa, and meet Bolivian leader Evo Morales. All are outspoken critics of US President George W. Bush.

But Ortega, who fought off a US-backed insurgency during his first government in the 1980s, took a less confrontational position with Ahmadinejad, instead talking about how the Iranian leader will help the developing world.

"We are conspiring against hunger, poverty and misery," Ortega said.

Iran and Nicaragua said they would open embassies in each other's capitals, strengthening ties between two countries that have had little interaction yet share long and troubled histories with the United States.

The paths of Nicaragua and Iran crossed in the 1980s during the Iran-Contra affair, in which the US secretly sold arms to Iran to free American hostages, then used some of the proceeds to back Contra rebels fighting to overthrow Ortega.

But that was long forgotten on Sunday, when the two countries signed a development agreement largely targeting Nicaragua's economic and infrastructure problems. It called for the construction of dams and homes, and factories building everything from buses to bicycles. They also agreed to establish programs to improve drinking water, ports and the fishing industry.

Ahmadinejad spent much of his time lashing out at the United States.

During a visit to a trash-strewn neighborhood in the capital of Managua, he told hundreds of Nicaragua's poor: "The imperialists don't like us to help you progress and develop. They don't like us to get rid of poverty and unite people. But the whole world knows that Nicaragua and Iran are together."

The president added that "Iran, Nicaragua and Venezuela and other revolutionary countries are together and we will resist together."

Later, during his final appearance with Ortega, he said the world's problems are "rooted in the bad policies of the world's superpowers."

"We support all movements for independence, including those in Latin America," he said.

Ortega has vowed to maintain relations with Washington and build a more moderate administration than his turbulent, Soviet-allied government of the 1980s. But, setting the stage for a careful balancing act, he has spent his first four days in office heavily courting three of Washington's most outspoken critics: Venezuela, Iran and Bolivia. Chavez promised millions of dollars in aid and support on Thursday, and Iran followed its lead.

Iran has long had close relations with Cuba and Venezuela. But the rising number of leftist leaders in Latin America and their growing frustration with Washington have given Iran an opportunity to expand its influence here.

"Our two countries have common interests, enemies and goals," Ahmadinejad said of Nicaragua. "We may be far apart, but we are close in heart."

Nicaraguans welcomed the Iranian leader, cheering his caravan as it passed through the capital and hoisting placards with Ahmadinejad's photo.

"We just want help for our country, and Iran has money," said Rafaela Morales, a 53-year-old first-grade teacher.