CEBU, Philippines _ Premier Wen Jiabao and Japanese Prime Minister Shinzo Abe met for talks as part of an Asian regional summit Sunday, saying they are satisfied that their nations' relations are improving.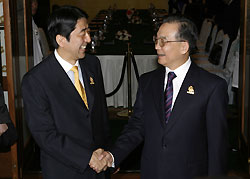 Abe, who visited Beijing last October, said he was happy to have another meeting with the Chinese leader.
"I hope we can exchange opinions and have fruitful results," he said in opening remarks during a one-day meeting in the central Philippine city of Cebu, where the two leaders were attending a broader meeting with the 10-country Association of Southeast Asian Nations.
Wen said Abe's visit last year was a very important one.
"Through efforts of both sides, we overcame problems obstructing the development of relations," he said.
"I am happy to see China-Japan relations moving forward," he said. "It is in the interest of the people of both sides, Asia and the world."
But Wen, expected to visit Tokyo this year, also cautioned that "our problems are still not small."
After the opening statements, the meeting went ahead behind closed doors.
Japan-China ties have been strained by territorial disputes, rival claims to natural resource areas and visits by Abe's predecessor to a Tokyo shrine that many see as a symbol of Japanese militarism.