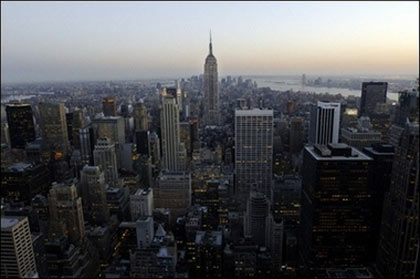 The New York city skyline in May 2006. Emergency services in New York City are hunting for the source of a strong odor, but were at a loss to explain what many reported to be the smell of natural gas.[AFP]


NEW YORK - They bombarded 911 with calls, crowded the sidewalks in front of evacuated buildings and tuned to the news for word of what was happening. The question on the minds of many New Yorkers on Monday morning was: "What's that smell?"

A natural gas-like odor hung over much of Manhattan and parts of New Jersey, confounding authorities. The smell seemed to be gone by early afternoon.

Officials were quick to stress that the odor was not dangerous, but at least 19 people went to the hospital with minor ailments and its wide extent provoked jitters in a city that constantly reminded of the September 11 attacks.

Mayor Michael Bloomberg said there was no indication the air was unsafe. "It may just be an unpleasant smell," he said. He said sensors did not show an unusually high concentration of natural gas, and the city's major utility company reported it found no gas leaks.

The mayor said the smell may have been caused by a leak of a substance called mercaptan that is added to natural gas for safety reasons to give it a recognizable odor. By itself, natural gas is odorless.

Some commuter trains running between New Jersey and Manhattan were suspended for about an hour as a precaution. A few city schools were briefly evacuated. Some apartment dwellers were advised to close their windows.

Homeland Security spokesman Russ Knocke said there was nothing to suggest terrorism.

"That smell was stinking. It smelled like, toxic," said Alfred Stewart, 47, who lives in an apartment in Manhattan's Chelsea section. He said it smelled like a mix of oil and kerosene: "You stayed in it and held it enough, you probably would have got dizzy from it."

Twelve people were taken to hospitals with minor complaints such as irritation and difficulty breathing, fire officials said.

The Fire Department began getting calls around 9 a.m. Gas provider Con Edison said it fielded 700 calls from people worried about the smell, from as far north as Washington Heights to as far south as Greenwich Village and as far east as Lexington Avenue.

Con Edison spokesman Chris Olert said more than 60 utility workers fanned out across Manhattan's West Side but found no indication of a gas leak.

Norman Thomas High School on East 33rd Street was evacuated for about a half-hour.

Susan Badger, a retiree who lives in Chelsea, said she left her apartment building to escape the smell. "If it's throughout the whole city, it seems that it must be a lot of gas. It's really extreme," she said.

Complaints about the odor also came from New Jersey, across the Hudson River from Manhattan. But no air sampling was done there because officials had no specific location to investigate, said Elaine Makatura, a spokeswoman for the state Department of Environmental Protection.

A spokesman for ConEdison said the company had found no problems in its natural gas system that would have explained the smell. "We did not find any gas leak or any problem on our gas system," spokesman Joseph Peta said. "At this point the cause of the odor remains a mystery."

Seven people went to the hospital seeking treatment in New Jersey, just across the Hudson River from New York, although New York City Mayor Michael Bloomberg said the odor was not dangerous and no unusual gas leaks had been found.

"It may just be an unpleasant smell, but at this point we do not know any more than that. The one thing we are confident about is, it is not dangerous," Bloomberg told a news conference.

"The city's air sensors do not report any elevated level of natural gas," he said.

The gas-like smell permeated lower Manhattan and was detected as far north as Central Park, across the width of the island, and in New Jersey.

A US Department of Homeland Security spokesman said there was no indication of a terrorism connection.

Four schools in Manhattan were briefly evacuated, and the odor chased people out of landmarks such as the Rockefeller Center and Macy's department store.

"It was really, really bad then, so bad it gave me a headache," said Kate Browne, who lives in the West Village neighborhood and said she could smell the gas when she took her daughter to school.

"The emergency services turned up at my daughter's school looking for the leak then," she said.

Part of the New York-New Jersey PATH commuter train system, which carries 225,000 passengers a day, was closed temporarily as a precaution but normal service quickly resumed.

Several office buildings were evacuated and their air conditioning systems shut down, but city officials soon told building managers people could return to work.

"There have been no abnormal changes in gas flow in our gas transmission lines," a spokesman for power utility Con Edison said. He declined to answer questions.

Bloomberg said there had been a small gas leak in lower Manhattan, but that was not nearly enough to account for the wide range of the odor. The city was blanketed with low clouds and there was light rain and little wind.

New York City is no stranger to odd smells.

In 2005, a maple syrup aroma spread across Manhattan twice within a matter of weeks. Environmental officials sent teams into neighborhoods where the calls originated but found nothing dangerous and could not explain the smell.

Last August, seven people were treated for headaches and nausea after a gaseous odor was reported in Queens and Staten Island. Its source remains a mystery.

Natural gas is odorless and a chemical called methyl mercaptan is added to it so that people can detect leaks. The chemical adds an odor similar to rotten eggs or sulfur, which was what people smelled during their morning commute.