US President George W. Bush will call for sending more American troops to Iraq to calm two troubled areas _ Baghdad, where sectarian violence flares daily, and the western Anbar Province, a base of the Sunni insurgency, a Republican senator said. Another GOP lawmaker put the number of additional troops at 20,000.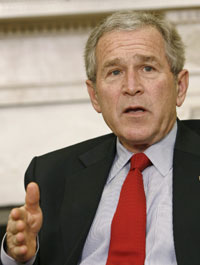 U.S. President George W. Bush speaks during a meeting with European Commission President Jose Manuel Barroso in the Oval Office of the White House in Washington January 8, 2007. [Reuters]

Sen. Kay Bailey Hutchison of Texas, one of about 30 lawmakers to discuss Iraq with Bush at the White House on Monday, said the president offered no specifics on how many extra U.S. troops would be involved. The White House remained quiet on the specifics of Bush's revamped strategy for the nearly four-year-old war, saying he would announce them during a speech to the nation at 9 p.m. EST Wednesday (0200 GMT Thursday).

"There will be surge in those two (areas), but it wasn't clear how much," Hutchison said. White House officials privately did not dispute her remarks.

According to Republican Sen. Gordon Smith, Bush told the senators that Iraqi Prime Minister Nouri al-Maliki presented him with the plan for a U.S. troop increase several weeks ago when they met in Jordan. Bush indicated to the lawmakers he was willing to send more troops because the Iraqis were willing to meet certain criteria.

Smith said the president only hypothetically discussed increasing troop numbers by specific amounts, "but it was clear to me a decision has been made for 20,000 additional troops."

There are about 140,000 troops in Iraq now.

Military officials have said Bush is considering sending two to five more brigades _ between about 8,000 and 20,000 troops _ to Iraq, to fight alongside promised additions of Iraqi security forces as well. Some military officials familiar with the discussions say the president could initially dispatch 8,000 to 10,000 new troops to Baghdad, and possibly to troubled Anbar Province, and leave himself the option of sending more later.

The war has claimed the lives of more than 3,000 members of the U.S. military and was a major factor in the Republican Party losing control of Congress in the November election. Some top military officials worry that sending more troops would overly strain the armed forces without assurances of success.

A central aim of the long-awaited address is to explain why success in Iraq matters to the average person. The White House knows the public is weary of war.

| | | |
| --- | --- | --- |
| 1 | 2 | |