LONDON - The British TV channel behind "Death of a President" - a drama in which US President Bush was assassinated - plans to broadcast a dramatization of Prime Minister Tony Blair's retirement from office and the buildup to his trial on war crimes charges.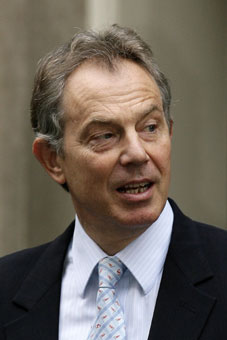 Britain Prime Minister Tony Blair. [Reuters]
"The Trial of Tony Blair," which airs on January 15, takes place in 2010: Hillary Clinton is the new US president, and Gordon Brown, Blair's deputy, has taken over as prime minister. But Blair is haunted by the continuing carnage in Iraq, and tormented by an obsession with his legacy so overpowering it blinds him to the looming threat of an indictment by the International Criminal Court.
Blair is played by respected British actor Robert Lindsay.
Channel 4, the broadcaster that operates the digital channel More4, said the show was a "comedy-drama," which would have light moments thrown in with darker ones. Still, the show's message was meant to be taken seriously, spokesman Gavin Dawson said.
"Part of our remit is questioning authority," he said. "You want people to be provoked into thinking about the world around them."
Dawson said the show had been in the works before "Death of a President" generated enormous controversy - and buzz - for the station in Britain and abroad. He denied any political motivation behind the choice of subject matter, although he acknowledged not everyone was likely to see it that way.
"It's a satirical drama, obviously it raises questions. ... I don't think the (US) Republicans will like it, but I think they should see it first," he said.
The feature-length show taps into a powerful undercurrent of anger many Britons feel toward the man who led their country into Iraq. While it does not feature the actual trial - the show concludes with Blair flying off to defend himself at The Hague - it isn't the first time Britons have toyed with the idea of putting their political leader in the dock.
London's Tricycle Theatre is preparing a stage version of a Blair trial, using interviews with lawmakers, diplomats, international lawyers and U.N. officials as the basis for the dialogue.
"Called to Account - The Indictment of Anthony Charles Lynton Blair for the Crime of Aggression against Iraq," is due to premiere in April.
Not everyone has been content with simply pretending to indict the prime minister. Since 2003, a group of anti-war lawyers has repeatedly tried to have Blair and his foreign and defense ministers investigated by the war crimes court, each time without success. Another attempt is planned for next April, said Legal Action Against War founder Chris Coverdale.
Alistair Beaton, who wrote the Channel 4 TV show, said he was not convinced his scenario was unrealistic.
"I gather Mr. Blair is very concerned about his place in history. This film is my idea of where that place might be," Beaton said. "Whether it's fiction or prediction remains to be seen."
Blair's 10 Downing St. office had no comment on the show. "We don't publicize other people's television programs," said a spokeswoman, on condition of anonymity in keeping with the government's policy.
Beaton has previously written "A Very Social Secretary," which lampooned an infamous affair by a member of Blair's Cabinet with his secretary.