MAKASSAR, Indonesia - Relatives waiting for news about a missing jetliner broke down in tears Tuesday after learning that senior Indonesian officials erroneously reported the Boeing 737's charred wreckage had been found and that a dozen people may have survived.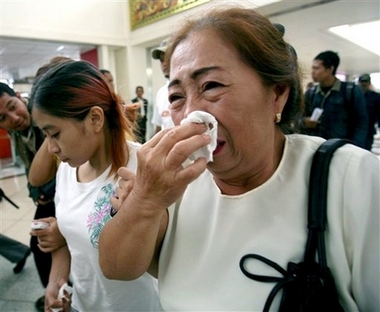 A relative of a plane crash victim on Sulawesi island weeps at Juanda airport in Surabaya, Indonesia, Tuesday, Jan. 2, 2007. [AP]


"Oh, what is happening to us?" wailed Dorce Sundalangi, whose daughter was on the flight, after hearing the report was based on rumors from villagers that reached the highest levels of government. "They had given us hope of seeing our beloved relatives ... but it was false hope."

The Adam Air plane carrying 102 people sent out two distress signals in stormy weather Monday halfway through its two-hour journey from Indonesia's main island of Java to Manado, on the northern tip of Sulawesi, one of the largest islands in the sprawling archipelago.

Three of those aboard were American citizens, the US Embassy said. A US National Transportation Safety Board team was to arrive Friday to offer assistance. It was unclear if any other foreigners were on the plane.

Rescue and search teams hiked slippery forest paths in heavy rain for more than 10 hours Tuesday but found nothing, calling off their search along Sulawesi's mountainous western coast as darkness fell and vowing to set off again at dawn Wednesday.

Bambang Karnoyudo, the head of the National Search and Rescue Agency, said the search would be expanded to include the nearby Makassar Strait.

The announcement capped a day of hope and anguish for relatives of those on Flight KI-574.

Police Chief Col. Genot Hariyanto earlier said rescue teams arrived at the crash site. Setyo Raharjo, head of the National Commission on Transportation Safety, said 90 bodies were found near the wreckage and that the search for the 12 others was continuing.

The claims were repeated by everyone from the chief of Adam Air ¡ª who extrapolated to say that a dozen people survived ¡ª to senior aviation officials, high-ranking military officials and police.

Descriptions were vivid, with officials saying corpses and debris from the plane were scattered over a 300-yard area of forests and jagged cliffs, highlighting the often unreliable and chaotic nature of disaster relief efforts in the world's largest archipelagic nation.

Eventually, Transport Minister Hatta Radjasa acknowledged the news was based on rumors from villagers, sparking a series of reversals from other officials.

"The search and rescue team is still looking for the location," the minister told El-Shinta radio. "It has not yet been found."

| | | |
| --- | --- | --- |
| 1 | 2 | |