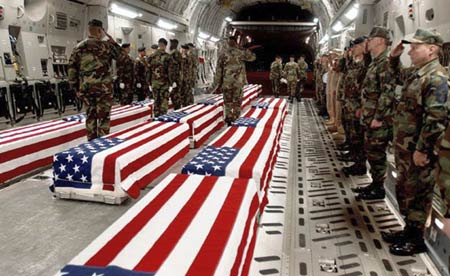 Coffins of US military personnel are offloaded at Dover Air Force Base in Dover, Delaware in this undated file photo. The US military death toll in Iraq has reached 3,000 on December 31, 2006, an unwelcome milestone for President George W. Bush who is searching for a way to turn around the unpopular war even if it means sending more troops. [Reuters]


London -- From the slopes of Mount Fuji to the banks of the River Thames, 2007 began Monday with a common theme: Hope for prosperity, health and peace.
Fireworks and parties rang in the new year around the globe, and Romania and Bulgaria celebrated their accession to the European Union with a dazzling display.
"A dream came true today, a dream for generations of Bulgarians who wished to live together with the free and democratic peoples of Europe in peace and prosperity," Bulgarian Prime Minister Sergei Stanishev said in Sofia.
In Sydney, fireworks exploded over Harbor Bridge as a million onlookers celebrated the New Year. The display was to celebrate the iconic bridge's 75th anniversary.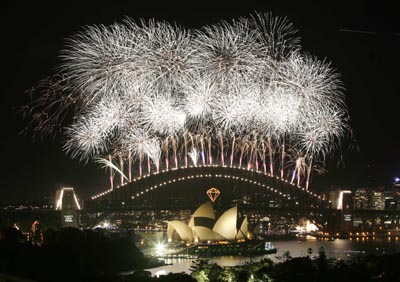 Fireworks explode over the Sydney Opera House and Harbour Bridge during New Year's eve celebrations January 1, 2007. [Reuters]


After Big Ben rang in 2007, hundreds of thousands gathered Monday morning for London's annual New Year's Day parade. Led by a US high school marching band, it wound its way through central London under clear skies.
Officials in Florida had originally blocked the 117 members of the Fort Myers High School Marching Band from traveling internationally because of terrorism, but parents voted to reject the ban, and US$500,000 was raised to get them to London.
At the Vatican, Pope Benedict XVI prayed for peace in the Middle East, asking that people work "courageously" to a lasting end to the Holy Land's conflict.
"How can one not turn one's glance yet again to the dramatic situation which characterizes the very land where Jesus was born?" the pontiff said Monday in his homily in St. Peter's Basilica during Mass. He described peace as a "gift."
In Copenhagen, Denmark's Queen Margrethe said in her traditional New Year's speech that a year marked by the international uproar over newspaper cartoons of the Prophet Muhammad highlighted the need for Danes to be more tolerant and understanding of foreign cultures.
It was a rowdy New Year in the Netherlands, where riot police were forced to break up crowds of drunken revelers in The Hague and dozens of cars were torched. A man was killed and another seriously injured when fireworks exploded in their faces in separate incidents.
At Berlin's signature Brandenburg Gate, some 20 DJs and music groups, including one each from new EU members Bulgaria and Romania, entertained more than 1 million people. An industry association estimated that Germans spent about euro100 million (US$132 million) on fireworks to mark the new year.
But in Iraq and Thailand, death marked the start of the new year.
In Bangkok, city officials canceled the city's main celebration after a series of bombs killed three people and wounded more than 30. Thousands of revelers who had gathered at the Central World Plaza shopping mall complex for the event were sent home, officials said.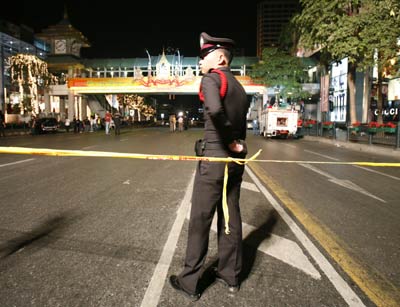 A policeman stands guard after bomb blasts in Bangkok January 1, 2006. [Reuters]


In Baghdad, US military officials announced the death of an American soldier in Iraq, bringing the American death toll in the country to 3,000 since the war began.
In his New Year's greeting, US President George W. Bush noted the continuing violence in the region.
"Last year, America continued its mission to fight and win the war on terror and promote liberty as an alternative to tyranny and despair," Bush said in the statement. "In the New Year, we will remain on the offensive against the enemies of freedom, advance the security of our country, and work toward a free and unified Iraq."
In Japan, thousands climbed mountains, some scaling famed Mount Fuji, to greet the first dawn of the year. Police expected crowds at the summits to reach 15,000.
Many Japanese, ranging from families with children to elderly couples, usually start climbing at night so they can reach the top in time for sunrise.
In New York's Times Square, more than 1 million revelers and 3.5 tons of confetti greeted 2007.

Two girls wear "2007" glasses as revelers begin to gather at Times Square in the afternoon as part of New Year's Eve celebrations in New York December 31, 2006. [Reuters]


Amanda Bermudez kissed her husband, Angel, a US Army soldier who recently returned from Iraq, as midnight struck. She also hoped for peace in the Middle East in 2007, "so he doesn't have to go back."