UNITED NATIONS - South Korean Ban Ki-moon, who becomes U.N. secretary-general on Monday, announced his first two appointments after weeks of speculation and mystery about his intentions.
(see profile of former UN Secretary-General Kofi Annan)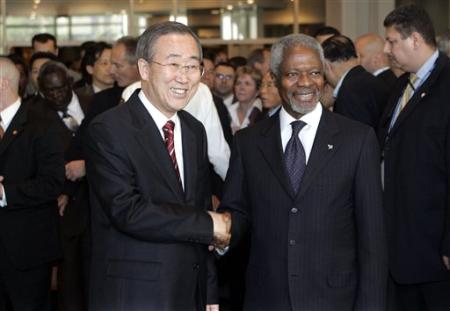 Ban Ki-moon, left, newly appointed Secretary General of the United Nations shakes the hand of Kofi Annan , Secretary General of the U.N., after a meeting of the General Assembly at U.N. headquarters in New York, in this Oct. 13, 2006 file photo. [AP]
Vijay Nambiar of India, an special adviser to Ban's predecessor Kofi Annan, will be his chief of staff and Michele Montas, an award-winning Haitian broadcaster, will head the U.N. spokesman's division, replacing Stephane Dujarric of France, a U.N. statement said on Sunday.
Unannounced yet, U.N. sources said, was Alicia Barcena of Mexico, expected to be named undersecretary-general for administration and management, a post previously held by the United States, which now wants political affairs or peacekeeping. Barcena was Annan's chief of staff over the last year.
But unknown yet is who will get the political affairs department, now held by Nigerian Ibrahim Gambari, and sought by both Britain and the United States. Peacekeeping is being run by Frenchman Jean-Marie Guehenno, who may stay on in his post for at least several months.
To give a senior post to the United States and Britain, both permanent U.N. Security Council members who helped elect Ban, some officials suggested splitting the peacekeeping department in two, which its staff believe would be operationally unfeasible.
Nambiar, a professor and former deputy national security adviser to the Indian government, was a former ambassador to the United Nations, Pakistan, China, Malaysia and Afghanistan.
Montas, a journalist, was the wife of murdered Haitian radio broadcaster, Jean Dominique, and featured in the 2004 Jonathan Demme documentary, "The Agronomist," named after Dominique's first profession that gave him insight into the subsistence existence of Haiti's peasant population.
Michele Montas kept the radio station they ran alive as long as she could until threats against her life and that of her staff made it impossible. She left for the United States in 2003. She has had posts in the U.N. public information department for the last few years, including spokeswoman for the General Assembly in 2004.
With strong support from the United States and China, Ban Ki-moon was chosen for the job over six rivals by the 15-nation Security Council, a decision confirmed by the 192-nation General Assembly in October. Ban, 62, South Korea's former foreign minister, will be the first Asian secretary-general head in 35 years.