BAGHDAD, Iraq - At least 80 Iraqis died in bombings and other attacks Saturday as they prepared to celebrate Islam's biggest holiday, their first without Saddam Hussein.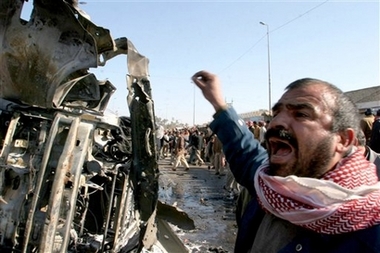 An Iraqi man cries out standing next to a destroyed car at the site of a bomb explosion in Kufa, 160 kilometers (100 miles) south of Baghdad, Iraq, Saturday, Dec. 30, 2006. A bomb planted on a minibus killed 17 people in a fish market in Kufa, while police imposed curfews in some Sunni areas to prevent any outbreak of violence after Saddam Hussein's execution. [AP]


The bombings came hours after Saddam was hanged in Baghdad for ordering the killings of 148 Shiites in the city of Dujail in 1982. Despite concerns about a spike in unrest, Saturday's violence was not unusually high for Iraq, nor did it appear to be in retaliation for the execution.

The military reported the deaths of six more American troops, making December the deadliest month this year for US forces in Iraq. At least 2,998 members of the US military have been killed since the Iraq war began in March 2003, according to an Associated Press count.

In Baghdad, 12 bodies bearing signs of torture were also found in various parts of the city, police said.

Two car bombs detonated one after another in a religiously mixed neighborhood of northwest Baghdad, killing 37 civilians and wounding 76, police said.

Another 31 people died and 58 were injured when a bomb planted on a minibus exploded in a fish market in a mostly Shiite town south of Baghdad, said Issa Mohammed, director of the morgue in the neighboring town of Najaf.

The man blamed for parking the vehicle in Kufa, about 100 miles south of the Iraqi capital, was cornered and killed by a mob as he walked away from the explosion, police and witnesses said.

Shoppers had crowded into the market to buy supplies for the four-day Eid al-Adha, the most important holiday of the Islamic calendar for Shiites.

Television footage showed hundreds of men in traditional Arab headdresses swarming around the minibus' charred frame, toppled on its side in the street. Ambulances and fire trucks pulled up to the site, and a coffin was loaded on top of a car.

The new deaths announced by the US military included three Marines who died Thursday of wounds from fighting in western Anbar province, the US military said.

A soldier also died in combat Friday in Anbar, and two others were killed by roadside bombs in separate incidents in Baghdad Friday, the military said.

Their deaths brought the December toll for US troops to 109, making it the deadliest month of 2006 for American service members. Some 105 troops died in October.

The total US death toll in Iraq teetered on the brink of 3,000 at a crucial time, as President Bush seeks to craft a new Iraq policy in the new year. Bush issued a statement from his ranch in Crawford, Texas, warning of more challenges ahead for American troops.

"Many difficult choices and further sacrifices lie ahead," he said in the statement released Friday night. "Yet the safety and security of the American people require that we not relent in ensuring that Iraq's young democracy continues to progress."

December also appeared to be one of the worst months for Iraqi civilian deaths since the AP began keeping track in May 2005.

Through Friday, at least 2,186 Iraqis have been killed in war-related or sectarian violence in December, an average rate of about 75 people a day, according to an AP count. That compares to at least 2,184 killed in November at an average of about 70 a day, the worst month for Iraqi civilians deaths since May 2005. In October, AP counted at least 1,216 civilians killed.

The AP count includes civilians, government officials and police and security forces, and is considered a minimum based on AP reporting. The actual number is likely higher, as many killings go unreported.

Saddam was hanged early Saturday following his conviction last month for crimes against humanity in connection with the Dujail killings. Curfews were enforced in the former dictator's hometown of Tikrit and in Samarra, both in the predominantly Sunni Salahuddin province north of Baghdad.

Mostly peaceful demonstrations were held in several towns across Iraq, with hundreds of people marching in the streets carrying Iraqi flags and banners. Despite the curfew, gunmen in Tikrit paraded with Saddam's picture and fired their weapons into the air, calling for vengeance.

In the northern city of Mosul, however, a demonstration condemning Saddam's execution erupted into clashes, and Iraqi soldiers killed two civilians, police said.