CAIRO, Egypt - The deputy leader of al-Qaida accused moderate Arab leaders of being traitors for cooperating with the United States in a message posted on the Internet Saturday to mark the most important Islamic holiday.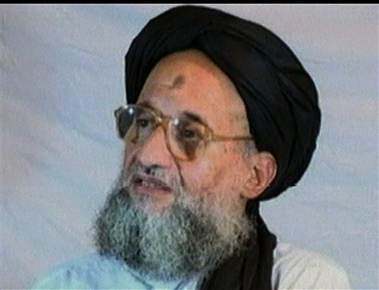 Al-Qaida's deputy leader, Ayman al-Zawahri, is seen in this file photo made from videotape posted on the Internet on Dec. 7, 2005. In a Web posting Saturday, Dec. 30, 2006, al-Zawahri accused moderate Arab leaders of being traitors for cooperating with the United States. [AP]


Ayman al-Zawahri wished the Palestinian people a happy Eid al-Adha, but lashed out at moderate Palestinian President Mahmoud Abbas and his Fatah movement.

"Those who had sold Palestine, the secular traitors, cannot be your brothers. Do not recognize their legitimacy. ... And don't sit with them," al-Zawahri said in a 15-minute audiotape message posted on a Web site commonly used by Islamic insurgents.

Al-Zawahri did not mention Saddam Hussein's execution, suggesting the tape was made before the ousted leader's hanging on Saturday.

The tape could not immediately be verified, but a banner posted on the Web site said it came from al-Qaida's media production house, al-Sahab.

Abbas met with Israeli Prime Minister Ehud Olmert earlier this month in an effort to restart U.S.-backed peace talks between the Jewish state and the Palestinians. Abbas is jockeying with the radical Islamic Hamas group for popular support in the increasingly turbulent West Bank and Gaza.

In the audiotape, al-Zawahri also denounced US ally Egyptian President Hosni Mubarak in an apparent reference to recent arrests and detentions of several members of the outlawed Muslim Brotherhood. "I greet my brothers inside the prisons of Mubarak, the traitor," he said.

Al-Zawahri extended his Eid greeting to Iraq, praising the leader of al-Qaida in Iraq, Abu Omar al-Baghdadi, and urged Muslims in Somalia, Chechnya, Indonesia, the Philippines and Algeria to keep on fighting the "infidels and crusaders."