JERUSALEM - Israel has approved a new settlement in the West Bank to house former Jewish settlers from the Gaza Strip, officials said Tuesday, breaking a promise to the US to halt home construction in the Palestinian territories.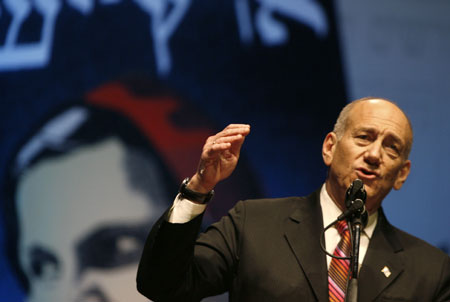 Israeli Prime Minister Ehud Olmert speaks during a Haifa and North Chamber of Commerce General Assembly in the northern Israeli city of Haifa December 26, 2006. [Reuters]


Construction in the northern West Bank town of Maskiot began months ago, but the project only received final approval from the Defense Ministry last week, said Dubi Tal, head of the Jordan Valley regional council.

Saeb Erekat, an aide to Palestinian President Mahmoud Abbas, condemned the construction and urged the government to revoke its authorization, saying it violated the spirit of cooperation inaugurated by a meeting Saturday between Abbas and Israeli Prime Minister Ehud Olmert.

"What message are they trying to send?" Erekat asked.

The settlement will house 23 families who were evacuated when Israel withdrew from the Gaza Strip last year, and will eventually house 100 families, Tal said. "I estimate that within two or three weeks the foundations for temporary housing will begin," he said.

Olmert has signaled in recent weeks that he is ready to make broad territorial concessions to the Palestinians under a final peace settlement, but he has also said he wants Israel to retain large settlement blocs. The Palestinians claim all of the West Bank, captured by Israel in the 1967 Middle East war, as part of a future independent state.

Under the stalled, US-backed "road map" peace plan, Israel pledged to freeze all settlement expansion, while the Palestinians promised to crack down on militants. Neither side has followed through.

"The US view on settlements remains unchanged," said Geoff Anisman, a spokesman for the US Embassy in Tel Aviv. "The US continues to urge both sides to meet their road map obligations and to avoid taking steps that could be viewed as predetermining the outcome of final status negotiations."

Saturday's Olmert-Abbas summit sought to build on momentum from an Israeli cease-fire with the Palestinians in the Gaza Strip, which took effect last month. Olmert made a series of gestures to the moderate Palestinian leader, offering to lift some West Bank checkpoints and unfreeze hundreds of millions of dollars in withheld tax funds.

| | | |
| --- | --- | --- |
| 1 | 2 | |