SANTIAGO, Chile - In a letter to Chileans written to be published after his death, Gen. Augusto Pinochet said he wished he hadn't had to stage the bloody 1973 coup that put him in power, and called the abuses under his long regime inevitable.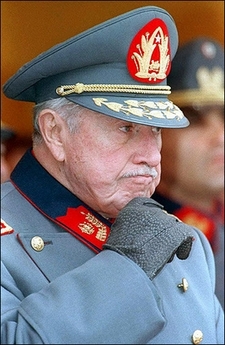 Chile's late former dictator Augusto Pinochet, seen here in 1996, in a posthumous letter published in newspapers, said he was "proud" of preventing a communist regime from taking root in Chile.[AFP]


His fate was public shunning and unimagined loneliness, he said in the message made public Sunday.
The former dictator, who died Dec. 10 of heart failure at age 91, insisted the military takeover avoided civil war and a Marxist dictatorship, and said his 1973-90 regime never had "an institutional plan" to abuse human rights.
"But it was necessary to act with maximum rigor to avoid a widening of the conflict," Pinochet wrote.
According to an official report, 3,197 people were killed for political reasons in the 17 years after Pinochet overthrew elected Marxist President Salvador Allende on Sept. 11, 1973. Tens of thousands were illegally imprisoned, tortured and forced into exile after the coup, during which Allende committed suicide rather than surrender.
Pinochet's "message to all my compatriots to be published after my death" was made public by the Pinochet Foundation, a group of former aides and followers. Its president, Hernan Guiloff, said he received the text from Pinochet in 2004 and decided to make it public "on this day of peace" - Christmas Eve.
In the six-page text, Pinochet wrote that "I have left no room for hatred in my heart."
"My destiny is a kind of banishment and loneliness that I would have never imagined, much less wanted," he added.
When he died, Pinochet was under indictment charging him with human rights abuses under his dictatorship and tax evasion in connection with secret multimillion-dollar foreign bank accounts.
Many people who endorsed the dictatorship's firm hand against communists and other leftists turned against Pinochet after hearing allegations that his family spirited $28 million into overseas accounts.
Pinochet noted the coup occurred in the context of the Cold War and said the military felt duty bound to overthrow Allende, because the alternatives were "a civil war ... the imposition of a so-called dictatorship of the proletariat, Marxist-Leninist, with total loss of political freedom and of the state of law."
"How I wish the Sept. 11, 1973, military action had not been necessary!" Pinochet wrote. "How I wish the Marxist-Leninist ideology had not entered our fatherland!"
He insisted the rights violations under his regime were inevitable because "as part of the characteristics of our rivals, it was necessary to implement certain procedures of military control, such as temporary imprisonment, authorized exile, executions by firing squad after military trials."
"As long as ideological and armed fanaticism continued to endanger stability, we could not lower our arms," he said.
The remains of more than 1,000 of the people killed for political reasons under the dictatorship have never been found, and Pinochet wrote that the circumstances of many of the deaths and disappearances will never be known.
"I state that I am proud of the huge action that we had to undertake to prevent Marxism-Leninism from reaching total power," he said.
But he added: "If the experience was to repeat itself, I wish I had a greater wisdom."