BAGHDAD, Iraq - Some 12,000 Iraqi policemen have been killed since the ouster of Saddam Hussein, the country's interior minister said Sunday, as clashes, a suicide bomber and weekend explosions killed more than a dozen Iraqi officers and six American soldiers.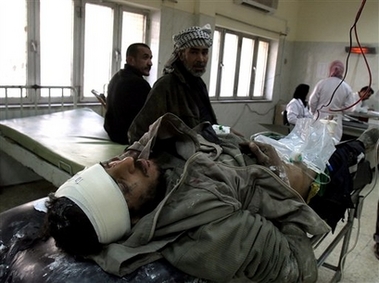 Iraqi man injured in a roadside bomb blast lies in a bed in Baghdad's Kindi hospital, Sunday, Dec. 24, 2006. [AP]


At a news conference in Baghdad's heavily fortified Green Zone, Interior Minister Jawad al-Bolani said despite the thousands of police deaths "when we call for new recruits, they come by the hundreds and by the thousands."

Among the deaths Sunday were seven police officers killed when a suicide bomber hit a police station in Muqdadiyah, northeast of the capital. The bombing was followed by six mortar rounds. In Mosul, a drive-by shooting killed two policemen.

Police and police recruits have been frequent targets of insurgent attacks. In one of the worst single attacks, a suicide car bomber detonated his explosives near a line of national guard and police recruits waiting to take physicals in February 2005. The blast in Hillah, about 60 miles south of Baghdad, killed 125.

Another bombing killed 60 civilians lining up to apply for police jobs in the Kurdish city of Irbil in northern Iraq in 2005.

Police have also been blamed for violence. Gunmen in Iraqi army and police uniforms have been responsible for recent bank robberies in Baghdad and the kidnapping of more than 40 workers and volunteers at the Iraqi Red Crescent.

Al-Bolani vowed to rid his ministry of rogue officers.

"We formed committees to clean and purge ... to dismiss the bad elements from the ministry and build our institutions," al-Bolani said.

The Iraqi Ministry of Health estimated in November that 150,000 Iraqi civilians been killed in the war that began in 2003. Other estimates put the figure as low as 51,000 or as high as 600,000. Iraq's health ministry is responsible for estimates of civilian deaths, while the interior ministry keeps track of the number of police killed.

In other violence, five Iraqi officers died battling Shiite militiamen in a provincial capital in southern Iraq just months after British troops ceded control of the province to Iraqi security forces. Three days of fighting in Samawah, capital of the Muthana province, posed a challenge for Iraqi forces whose responsibilities are increasing as part of a US plan to put more Iraqi provinces under local control.

Fighters linked to the radical cleric Muqtada al-Sadr fired rocket-propelled grenades at police headquarters and state buildings in Samawah, before government reinforcements arrived and a curfew fell on the city, police said. Masked gunmen lined rooftops.

Al-Bolani sought to downplay three days of clashes in Samawah, which lies on the Euphrates River about 230 miles southeast of Baghdad.

| | | |
| --- | --- | --- |
| 1 | 2 | |