IPSWICH, England - Authorities charged a 48-year-old man with the murder of five prostitutes whose bodies were recovered near this English town earlier this month, police said Thursday.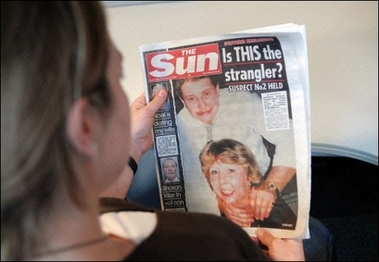 A woman reads the front page of the 20 December 2006 edition of The Sun, featuring pictures of a man named by the paper as 48 year-old Steve Wright (top), one of two suspects currently in police custody in connection with the murders of five prostitutes in Ipswich. Police probing the killings of five prostitutes in the English town of Ipswich were sharing notes with a neighboring force trying to resolve sex worker murders dating back to 1992. [AFP]


Police identified the suspect as Steve Wright, who lives in the city's red-light district and was taken into custody in Ipswich Tuesday.

"Stephen Wright from Ipswich has been charged with the murder of all five women," Detective Chief Superintendent Stewart Gull said at a news conference.

He said that a 37-year-old man who had been arrested Monday was released on bail pending further inquires.

Prosecutor Michael Crimp said there was "sufficient evidence" to charge Wright with the murders of Tania Nicol, Anneli Alderton, Paula Clennell, Annette Nicholls and Gemma Adams.

"As the case has developed we have been carefully examining and assessing the evidence in order to come to a charging decision at the earliest possible opportunity," Crimp said.

Wright was to appear in court Friday, he said.

Investigators had until Friday evening to charge or release the 37-year-old man - identified in news reports as Tom Stephens. He had been arrested at his home in Trimley St. Martin, 8 miles southeast of Ipswich, where all the victims worked.

All five victims had been working as prostitutes and their naked bodies were found in rural areas around Ipswich over a period of about 10 days beginning Dec. 2.

Three of the bodies were found near the main road and the rail line between Ipswich and Trimley; the two others were discovered near the same road in areas south and southwest of Ipswich.

The British Broadcasting Corp. and other media reported earlier that Wright worked as a forklift driver and had lived in the area since September. Neighbors said the man was often seen washing his dark blue Ford Mondeo inside and out.

News reports identified Stephens as a part-time taxi driver, supermarket worker and former volunteer police officer. He was quoted in an interview with the Sunday Mirror newspaper as saying he knew all the victims, and regarded himself as their protector.

News of the arrest came a day after an inquest into the deaths of Tania Nicol, Anneli Alderton, Paula Clennell, and Annette Nicholls. An inquest into the death of the fifth victim, Gemma Adams, 25, was held last week.

Clennell, 24, died of compression to her neck, and Alderton, 24, was strangled, a senior pathologist determined. Post-mortem examinations of the bodies of Nicol, 19, and Nicholls, 29, reached no conclusion on the cause of death.