CAMP PENDLETON, Calif. - Eight Marines were charged Thursday in the killings of 24 Iraqi civilians last year in a bloody, door-to-door sweep that came after one of their comrades was killed by a roadside bomb.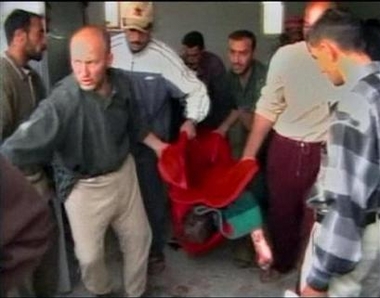 A video provided to Reuters by Hamourabi Human rights group shows bodies being loaded onto a truck in Haditha in November of 2005. [Reuters]


In the biggest US criminal case involving civilian deaths in the Iraq war, four of the Marines were charged with unpremeditated murder in the killings in the town of Haditha.

The other four charged were officers who were not there but were accused of failures in investigating and reporting the deaths, the Marine Corps said.

Staff Sgt. Frank Wuterich, 26, a squad leader, was charged with the unpremeditated murder of 18 civilians, including six people inside a house members of his squad cleared with deadly force. Wuterich also was charged with one count each of making a false official statement and soliciting another sergeant to make false official statements.

Sgt. Sanick P. Dela Cruz, 24, was accused of the unpremeditated murders of five people and making a false official statement with intent to deceive.

Lance Cpl. Justin Sharratt, 22, was charged with the unpremeditated murder of three Iraqis.

Lance Cpl. Stephen Tatum, 25, was accused of the unpremeditated murders of two Iraqis,

The highest ranking defendant, Lt. Col. Jeffrey Chessani, 42, was accused of failing to obey an order or regulation, encompassing dereliction of duty.

The other officers charged were 1st Lt. Andrew Grayson, 25, Capt. Lucas McConnell, 31, and Capt. Randy Stone, 34, a military attorney.

Defense attorneys have said their clients were doing what they had been trained to do: responding to a perceived threat with legitimate force. The Marines remained in combat for months after the killings.

The Marine Corps initially reported that 15 Iraqis died in a roadside bomb blast, and Marines killed eight insurgents in an ensuing firefight. That account was widely discredited and later reports put the number of dead Iraqis at 24.

A criminal probe was launched after Time magazine reported in March, citing survivor accounts and human rights groups, that innocent people were killed.