Turkmen president dies of heart attack
(AP)
Updated: 2006-12-21 14:25
ASHGABAT, Turkmenistan -- President Saparmurat Niyazov -- who created a vast cult of personality during two decades of iron-fisted rule over arid, energy-rich Turkmenistan -- has died, officials said Thursday. He was 66.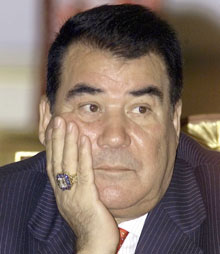 Turkmen President Saparmurat Niyazov attends a government meeting in Ashgabat in this December 27, 2002, file picture. [Reuters]

A terse report from state television said Niyazov died early Thursday of heart failure and showed a black-framed portrait of the man who had ordered citizens to refer to him as "Turkmenbashi" -- the Father of All Turkmen.

"It happened overnight. The president has died," a government source said on Thursday.

Niyazov underwent major heart surgery in Germany in 1997 and last month publicly acknowledged for the first time that he had heart disease. But he did not seem seriously ill; two weeks ago he appeared in public to formally open an amusement park named after him outside the capital.

Niyazov had led Turkmenistan since 1985, when it was still a Soviet republic. After the 1991 Soviet collapse, he retained control and began creating an elaborate personality cult.

He ordered the months and days of the week named after himself and his family, and statues of him were erected throughout the nation. He is listed as author of the "Rukhnama" (Book of the Soul) that was required reading in schools. Children pledged allegiance to him every morning.

It was unclear who may be in line to replace Niyazov or how the succession process would be conducted. The funeral is to be held on Sunday.

"His death means a terrible shock for the republic, its residents and the political class. It's comparable to a shock the Soviet Union felt after Stalin's death," Vyacheslav Nikonov, head of the Moscow-based Politika think tank, was quoted as saying by the RIA-Novosti news agency.

Turkmenistan -- a majority Muslim country dominated by the vast Kara Kum desert -- has the world's fifth-largest natural gas reserves, but Niyazov failed to convert that wealth into prosperity for his country's 5 million people.

Earlier this year, the leader announced he would provide citizens with natural gas and power free of charge through 2030. But he has also tapped the country's vast energy wealth for outlandish projects -- a huge, man-made lake in the Kara Kum desert, a vast cypress forest to change the desert climate, an ice palace outside the capital, a ski resort and a 130-foot pyramid.

Niyazov was born February 19, 1940. His father died in World War II and the rest of his family was killed in an earthquake that leveled Ashgabat in 1948. He was raised in an orphanage and later in the home of distant relatives.

Niyazov attended Leningrad Polytechnic Institute in Russia to study power engineering and worked at the Bezmeinskaya Power Station near Ashgabat after his graduation in 1966.

Named head of the Communist Party in Turkmenistan in 1985, Niyazov was named president of the Turkmen Soviet Socialist Republic in October 1990 and led his nation through its October 27, 1991 independence. He was elected president of the new independent Turkmenistan in 1992 with a reported 99.5 percent of the vote. In 1994, an alleged 99.9 percent of voters supported a referendum allowing him to remain in office for a second five-year term without having to face new elections.

In 1999, he was effectively made president for life after parliament removed all term limits, but an August 2002 gathering of the country's People's Council -- a hand-picked assembly of Niyazov loyalists -- nonetheless went further and endorsed him as president for life.

Under Niyazov's rule, Turkmenistan adopted a strict policy of neutrality and spurned joining regional security or economic organizations that sprung up in the wake of the Soviet collapse.

But Niyazov supported the US-led anti-terror campaign in neighboring Afghanistan, allowing coalition airplanes to use Turkmen airspace and humanitarian agencies to pass through to deliver aid.

Niyazov also pursued strong nationalistic policies to encourage the use of the Turkmen language over Russian and banned access to Russian-language media, leading to an increased exodus of some of the country's most educated citizens and decimating its school system. Secondary education has been reduced in Turkmenistan to a required nine years, causing human rights groups to complain of a deliberate attempt to dumb down the population and prevent dissent.

Most Commented/Read Stories in 48 Hours