CAIRO, Egypt - The deputy leader of al-Qaida, Ayman al-Zawahri, told the United States it is negotiating with the wrong people in Iraq, suggesting in a video released Wednesday that his terror group was the real power broker in the country.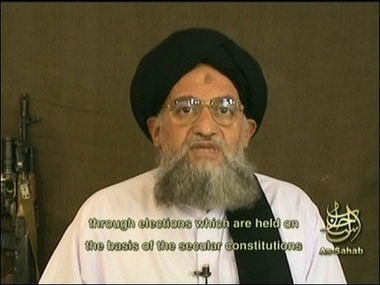 An image grab taken from a video broadcast on Al-Jazeera television shows Al-Qaeda number two Ayman al-Zawahiri. Zawahiri has vowed in a videotape that his group will pursue attacks on the United States and slammed Palestinian Hamas for joining the political process. [AFP]


The terrorist chief warned that al-Qaida would keep fighting US troops in the Muslim world and target Western nations in retaliation. But he also criticized rival Islamic militant groups, such as the Palestinian Hamas, for being too soft in waging "jihad" or holy war.

"The mujahedeen (holy warriors) will keep their weapons pointed at you until you leave our lands and cease backing our corrupt leaders," al-Zawahri said, addressing Americans in excerpts of the video aired on Al-Jazeera television.

The video - which bore the logo of al-Qaida's media production house al-Sahab ¡ª was the 14th time this year that al-Zawahri has issued a statement. As in previous videos, he appeared in a black turban and white robe with a rifle behind him leaning against a plain brown backdrop. He frequently wagged his finger at the camera for emphasis.

In his comments on Iraq, al-Zawahri appeared to suggest that Washington should be negotiating with al-Qaida over the fate of the country. The Bush administration has been reaching out to numerous players in Iraq and to allied Mideast governments in an attempt to calm escalating violence amid calls in the US for a troop reduction.

"I want to tell the Republicans and the Democrats together ... you are trying to negotiate with some parties to secure your withdrawal, but these parties won't find you an exit" from Iraq, al-Zawahri said.

"It seems that you will go through a painful journey of failed negotiations until you will be forced to return to negotiate with the real powers," he said, referring to al-Qaida's branch in the country, which has allied with some Sunni Arab insurgent groups.

But Diaa Rashwan, an Egyptian expert on radical Islamic groups, said al-Qaida had no intention to negotiate with Washington over Iraq. Al-Zawahri's statement was largely rhetorical and aimed at destabilizing US opinion, he said.

"He's just trying to tell the American public that their government is failing in peace as it has failed in war in Iraq," Rashwan said.

In a January audiotape, al-Qaida leader Osama bin Laden offered a "truce" to the United States for unspecified conditions - the only previous suggestion of a negotiation with Washington. But al-Zawahri said in a later video the offer was retracted after the US rejected it.

In Wednesday's video, al-Zawahri vowed that al-Qaida would "never stop striking" at the United States and other countries that sent soldiers into Muslim nations such as Iraq and Afghanistan.

He addressed a range of topics in a video that appeared aimed at emphasizing al-Qaida's leadership of jihad and mobilizing support against the US and a range of Middle Eastern players - Palestinian President Mahmoud Abbas of Fatah, Hamas and Iran and its Shiite allies in Iraq and elsewhere.

Al-Qaida's leaders "see the jihad as a global effort and all issues as interconnected," said Ben Venzke of the US-based IntelCenter, a US government contractor that studies al-Qaida messaging. He noted that al-Zawahri was increasingly responsive to regional developments and fast at broadcasting al-Qaida's take on recent news events.

Al-Zawahri made references to the call made by Abbas for early elections, indicating the video was made since the Palestinian president spoke out on Saturday.

A technical analysis of the tape indicated that the voice was al-Zawahri's, said one US intelligence official. The official spoke on condition of anonymity because he was not authorized to speak about it on the record.

Al-Zawahri, who is largely regarded as al-Qaida's main theoretician, criticized Abbas for calling early elections and Hamas for having participated in January elections, then forming a government after it won.

"Aren't they an Islamic movement? Aren't they campaigning for the word of God to be supreme?" he said, adding Hamas should have insisted on "an Islamic constitution for Palestine."

Al-Zawahri "wants to remind the Muslim world and radical militants that jihad should not compromise with democracy," Rashwan said. But the attack on Hamas could backfire, because many Arabs may reject criticism of the Palestinian movement, he said.

Al-Zawahri's comments were expected to have little influence in the West Bank and Gaza Strip. Hamas has distanced itself from al-Qaida, saying its struggle is against Israel, not the West. In Gaza, Hamas spokesman Fawzi Barhoum brushed off al-Zawahri's criticism.

"Our Palestinian institutions are in need of reform, and to fix them we need to participate in the parliament and other institutions," Barhoum said.