MULTAN, Pakistan - A fire erupted in a wedding tent in eastern Pakistan, triggering a stampede and the collapse of a wall that killed 27 women and children, police said Sunday. The bride was among the dead.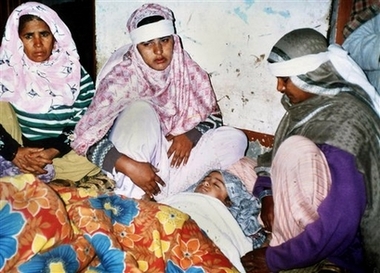 Pakistani women wail beside the body of a child, who died in a stampede of a wedding party in Jhok Utra village about 120 kilometers (75 miles) west of Multan, Pakistan on Sunday, Dec. 17, 2006. [AP]


More than 30 other people in the wedding party were injured late Saturday night in Jhok Utra, a village about 290 miles southwest of the capital Islamabad, area police officer Khadim Hussain Khadim said. It was not known if the count of those injured included some people who later died.
Heat from high-intensity lights apparently sparked the blaze in a large canvas tent where more than 100 women and children, many singing wedding songs, were present, Khadim said. Men attending the wedding were in a separate tent - following conservative Muslim tradition - that was not damaged.
Twenty women and seven children died, either from burns or from injuries suffered during the stampede or when a newly built brick wall collapsed on top of those trying to escape the fire.
Khadim said those fleeing were forced to escape down a narrow street, and that the wall collapsed after many people were pushed against it.
Fatima, a 32-year-old woman who attended the wedding and like some Pakistani women goes by one name, said the fire started suddenly near the roof of the tent. That sparked a panicked stampede, with dozens of women trying to squeeze through the tent's door.
"We were sitting on one side talking with each other while some women were singing when there was fire in the upper part of the tent," Fatima said. Her hands were colored with the traditional henna floral designs that women commonly use at weddings in Pakistan. "We ran to save our lives."