BAGRAM, Afghanistan - Almost 2,100 militants have been killed in Afghanistan since Sept. 1 in operations involving coalition special forces soldiers, a US Army spokesman said.
That means more than half of the country's insurgency-related deaths this year have come in the last three months.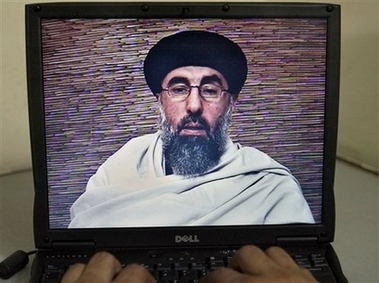 Afghan insurgent leader Gulbuddin Hekmatyar is seen in this photo grab from a DVD received by Associated Press Television in Pakistan, Tuesday, Dec. 12, 2006. [AP]


About 900 of the 2,077 deaths came during Operation Medusa, a major offensive in September in the southern province of Kandahar. Special forces soldiers worked alongside conventional forces from Canada during the fight.

The two primary missions for the US special forces soldiers in Afghanistan are conducting counterterrorism operations and supporting NATO troops, Master Sgt. Clifford Richardson said in an interview this week at Bagram, the main US base in Afghanistan.

Nailing top fugitives like al-Qaida leader Osama bin Laden and Taliban leader Mullah Omar is part of the mission of Operation Enduring Freedom but isn't the top priority of the Combined Joint Special Operations Task Force, which commands all special forces soldiers in Afghanistan, Richardson said.

More than 500 US special forces soldiers and 1,000 from other coalition countries operate throughout Afghanistan and outside the command of NATO's International Security Assistance Force, unlike conventional US troops now operating in the east.

American special forces worked in parallel with conventional troops from Canada during Medusa.

"We were assisting the Canadians by providing some reconnaissance and some screening and it rolled into where they could no longer push forward," Richardson said. "We rolled into a different tactical maneuver set and took over as the main element."

The number of militants killed in action since Sept. 1 - when the current US special forces group arrived for an eight-month rotation - was confirmed through either physical evidence, such as body counts, or through multiple sources, Richardson said.

About 4,000 people have died in violence in Afghanistan this year, according to an Associated Press count based on figures from NATO, US and Afghan officials. Those figures often come from remote battle sites and are impossible to confirm.

Taliban insurgents have stepped up attacks this year, particularly in the country's south and east, and have launched a record number of suicide and roadside bombs this year.

Richardson said that special forces soldiers here no longer operate unilaterally, but "by, with and through" Afghan security forces.

"We prefer to operate through the partner units we work with and the government of Afghanistan," he said. "That just solidifies them becoming a sovereign nation and not relying solely on the US military for their own protection and security."