BAGHDAD, Iraq - Two car bombs targeting day laborers looking for work exploded within seconds of each other Tuesday on a main square in central Baghdad, killing at least 57 people and wounding more than 150, police said.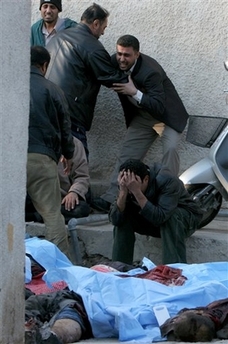 Iraqis grieve over the bodies of their dead relatives in Al-Kindi hospital in Baghdad, Iraq, Tuesday, Dec. 12, 2006, following two synchronized explosions that occurred in Iraq's capital. Suspected insurgents set off two bombs in a main square of central Baghdad where scores of Iraqis were waiting for jobs as day laborers, killing at least 57 people and wounding 151, police said. [AP]


Prime Minister Nouri al-Maliki, a member of Iraq's Shiite majority, condemned the attack and blamed it on Sunni extremists and supporters of Saddam Hussein.

The coordinated attack in Tayaran Square involved a suicide attacker who drove up to the day laborers pretending to want to hire them, then set off his explosives as they got into his minibus, Lt. Bilal Ali said. At virtually the same time - 7 a.m. - a bomb exploded in a car parked some 30 yards away.

The blasts shattered storefront windows, dug craters in the road and set fire to about 10 other cars.

At least 57 Iraqis, including seven policemen, were killed and 151 people were wounded, Ali said. He said most of the victims were Shiites from poor areas of the capital such as Sadr City.

Iraqis gather on the square early in the morning, soliciting jobs as construction workers, cleaners and painters. They buy breakfast at stands selling tea and egg sandwiches while they wait for potential employers to drive up.

Khalil Ibrahim, 41, who owns a shop in the area, was treated at a hospital for shrapnel wounds to his head and back.

"In the first explosion, I saw people falling over, some of them blown apart. When the other bomb went off seconds later, it slammed me into a wall of my store and I fainted," he said.

Police at a nearby checkpoint fired random shots in several directions. Residents rushed to the devastated area to see if friends or relatives had been killed or wounded.

Mangled bodies were piled up at the side of the road and partially covered with paper. Two men sat on a nearby sidewalk, crying and covering their faces with their hands.

"The driver of the minibus lured the people to hire them as laborers, and after they gathered he detonated the vehicle," said another witness, Ali Hussein.

Al-Maliki condemned the attack, calling it a "horrible crime."

"Iraq's security forces will chase the criminals and present them to the justice," he said.

| | | |
| --- | --- | --- |
| 1 | 2 | |