TEHRAN, Iran - Iranian students staged a rare demonstration Monday against President Mahmoud Ahmadinejad, lighting a firecracker and burning his photograph as he delivered a speech at their university, the state news agency reported.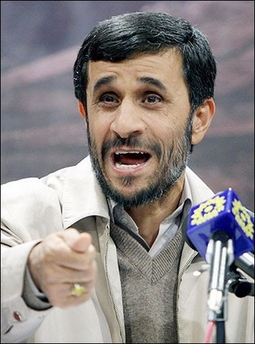 Iran's President Mahmoud Ahmadinejad speaks during a press conference in Tehran, November 2006. Six major powers resumed talks on how to coerce Iran into halting its nuclear fuel work as Moscow welcomed changes to a European resolution mandating UN sanctions against Tehran.[AFP]


The hard-line leader responded calmly when a small group of students in a crowded hall at Amir Kabir Technical University started chanting "Death to the dictator!" the Islamic Republic News Agency reported.
"We have resisted dictatorship for many years - from before the 1979 Islamic Revolution," Ahmadinejad said, according to the agency. "Nobody can bring back a dictatorship even in the name of freedom."
Anti-government protests have been extremely rare since Ahmadinejad was elected in 2005 - even in universities which were once a stronghold of the pro-reform movement. Reformists had already been deeply demoralized before his victory, pushed out of power by hard-liners in Iran's cleric-led government.
The disturbances began when a group of students started chanting during the speech. One held up a poster that read: "Fascist president, the Polytechnic is not a place for you."
They held an Ahmadinejad picture up and set it alight, then a student set off a firecracker.
Ahmadinejad supporters in the audience began to chant in response, silencing the protesters. The president then continued his speech.
No arrests were reported.
Ahmadinejad has moved to squeeze out liberal and secular university professors and has threatened an outright purge. He named a cleric to head Tehran University for the first time, and dozens of liberal professors were sent into retirement in the past year, though many still remain in their positions.
Last week, hundreds of opposition students in University of Tehran staged a short demonstration, demanding more freedoms.
Iran's reform movement peaked in the late 1990s after pro-reform President Mohammad Khatami was elected and his supporters swept parliament. But hard-liners who control the judiciary, security forces and powerful unelected bodies in the government stymied attempts to ease social and political restrictions.
Numerous pro-reform newspapers were shut down, and since Ahmadinejad's election those that remain have been muted in their criticism, fearing closure. A few months ago the government banned a newspaper that had satirized Ahmadinejad in a cartoon.