Beijing -- American pop singing star Mariah Carey is worried fans could confuse her with American porn star Mary Carey and filed suit Friday in Los Angeles to prevent the star of movies such as "Double Air Bags 11" and "Boobsville Sorority Girls" from trademarking her similar-sounding stage name.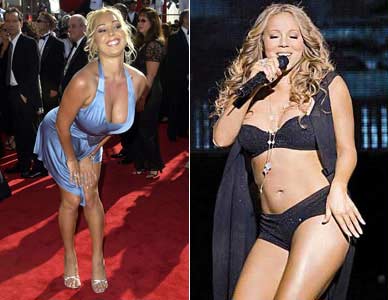 Mariah Carey (R) and Mary Carey (L). [File Photo]


The adult film actress, whose real name is Mary Cook, said Friday she would not be intimidated by the international superstar and will continue her trademark application.
She began using the stage name Mary Carey in 2002 and ran for California governor against Arnold Schwarzenegger. She filed the trademark papers earlier this year.
"I'm ready to battle Mariah over this because I've been Mary Carey for a long time," Mary Carey told Reuters. "It's kind of funny because I'm a porn star and I've been being myself for a long time. I think she's being silly."
A lawyer for Mariah Carey sent Mary Carey's representatives a letter in October threatening legal action if she did not withdraw the application.
"MARY CAREY and MARIAH CAREY share the identical surname and have first names that are very similar," attorney Robert Becker wrote.
And in part because the porn star was seeking the trademark for audio and video recordings, he said, "Confusion between your client and her MARY CAREY trademark and our client and its MARIAH CAREY trademark is therefore likely."
Becker also demanded that Mary Carey use her name only for "adult entertainment" and that she not sing or perform music.
"This is a technical procedure to stop a trademark registration. Mariah Carey has no affiliation with Mary Carey," said Mariah Carey's spokeswoman, Leslie Sloane-Zelnik.
David Beitchman, a lawyer for Mary Carey, said he thought Mariah Carey doesn't have much chance of winning.
"My first thought was, does Mariah Carey realize what her lawyer is comparing her to and are they seriously concerned?" Beitchman said. "Do they seriously think the fans are going to be confused?"
Mariah Carey, who suffered a brief career slump after dominating the pop charts during the 1990s, had a major comeback with last year's "The Emancipation of Mimi," the best-selling pop album of 2005. She won a Grammy for the single "We Belong Together."