WASHINGTON: The United States faces a "grave and deteriorating" situation after three years of war in Iraq, a high-level commission warned bluntly Wednesday, recommending enhanced diplomacy to stabilize the country and hopefully permit the withdrawal of most combat troops by early 2008.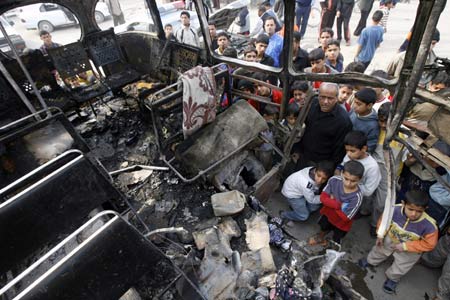 Residents look at a burnt minibus after a suicide bomb attack in Baghdad's Sadr city yesterday. A suicide bomber blew himself up inside the minibus, killing three people and wounding 16, Interior Ministry sources said. Another 10 people were killed by a barrage of mortars in central Baghdad.[Reuters]



"There is no path that can guarantee success, but the prospects can be improved," the commission said after an eight-month review of a war that has resulted in the deaths of more than 2,900 US troops and grown so unpopular at home that it helped trigger a Democratic takeover of Congress in last month's elections.
Portions of the report were obtained by The Associated Press.
President George W. Bush received the report in an early meeting at the White House with commission members. He pledged to treat each proposal seriously and act in a "timely fashion."
He was flanked by the commission's co-chairmen, former Secretary of State James A. Baker III, and former Republican Lee Hamilton.
The report painted a grim picture of Iraq nearly four years after US forces toppled Saddam Hussein.
It warned that if the situation continues to deteriorate, there is a risk of a "slide toward chaos (that) could trigger the collapse of Iraq's government and a humanitarian catastrophe."
"Neighbouring countries could intervene. .... The global standing of the United States could be diminished. Americans could become more polarized," commissioners said.
The report called for the administration to try to engage Syria and Iran in diplomacy as part of an effort to bring stability to Iraq even though Bush has said previously he would not negotiate with either country.
The report also said there needs to be a renewed and sustained commitment by the United States to a comprehensive Arab-Israeli peace on all fronts: Lebanon, Syria and Bush's June 2002 commitment to a two-state solution for Israel and Palestine.
With diplomacy under way, the report said, the US should increase the number of combat and other troops that are embedded with and supporting Iraqi Army units.
"As these actions proceed, US combat forces could begin to move out of Iraq. ... By the first quarter of 2008, subject to unexpected developments in the security situation on the ground, all combat brigades not necessary for force protection could be out of Iraq."

| | | |
| --- | --- | --- |
| 1 | 2 | |