BEIRUT, Lebanon - Shiite Muslims on Tuesday buried a man killed in street clashes in a Sunni Muslim neighborhood as Lebanon's army commander warned the military may not be able to contain further protests linked to the country's tense political standoff.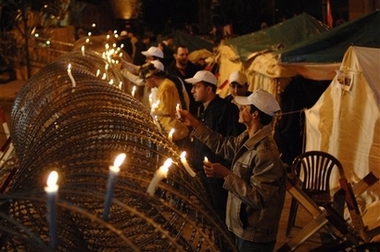 Lebanese supporters of Hezbollah and their allies light candles on a barbed wire near the Government House, after the funeral of Ahmed Ali Mahmoud who was killed Sunday during clashes which erupted between groups of Shiites and Sunnis, in downtown Beirut, Lebanon, Tuesday Dec. 5, 2006. [AP]


Army commander Gen. Michel Suleiman urged politicians to compromise, according to comments quoted by several Beirut newspapers.

After another night of unrest in the capital, Prime Minister Fuad Saniora warned the situation could get out of control.

"No one can impose control on the streets and this has been proven," he told hundreds of supporters who converged throughout the day on his office complex, which was ringed by barbed wire, combat troops and riot police.

Outside, thousands of opposition protesters were gathered near Saniora's offices and in several other downtown squares in yet another evening of rallies aimed at bringing down the government. Many have been camped out near the prime minister's headquarters since Friday.

In a new tactic Tuesday night, they aimed two powerful floodlights at the government complex. Troops installed more barbed wire and other fortifications.

Lebanon's political confrontation breaks down on dangerous sectarian lines. The US-backed government is supported largely by Sunnis, while the opposition - led by the pro-Syrian Hezbollah - enjoys wide support among Shiites. Lebanon's Christians are split between the two camps. Hezbollah is demanding the formation of a new government giving it and its allies a larger share of power.

The standoff shows no sign of waning despite calls from the two sides for dialogue to resolve their differences. The Arab League secretary general has visited to try to help, as did Jordan's foreign minister. Egypt's Beirut envoy also has been making the rounds.

After several days of trading accusations in the media, rival Lebanese leaders opened direct channels. A Sunni scholar in the opposition went to the government headquarters to discuss ideas on resolving the crisis and the government gave him its own proposals, including the possible expansion of the current Cabinet to satisfy opposition demands, youth and sports minister Ahmed Fatfat told reporters.

Shiite leaders tried to put the lid on the boiling sectarian tension and prevent revenge attacks after the killing of 21-year-old Shiite protester Ahmed Mahmoud, who was shot while walking Sunday with other protesters through the Sunni neighborhood of Qasqas. Twenty one people were wounded in the violence.

In a Shiite district not far from the shooting scene, Mahmoud's comrades from the Shiite Amal party and relatives took turns carrying his coffin. About 2,000 people, many holding Lebanese and green Amal flags, marched behind. A band played martial music. Some of the Shiites beat their heads with their hands in a traditional sign of mourning.

The funeral march made its way to the Rawdat al-Shahidein cemetery, where Sheik Abdul-Amir Kabalan, a senior Shiite cleric, led the prayer over the coffin amid wails of relatives and calls of "God is great."

"It is (religiously) prohibited for a Shiite to kill a Sunni, a Sunni to kill a Shiite, a Druse to kill a Shiite, a Shiite to kill a Druse and a Christian to kill a Muslim," said Kabalan, deputy leader of the Supreme Shiite Council, the religious governing body of the 1.2 million Shiites, Lebanon's largest sect. "It is prohibited to fight each other, to provoke and curse each other."



| | | |
| --- | --- | --- |
| 1 | 2 | |