HOUMA, La. - A man has confessed to strangling or suffocating 23 men during an eight-year killing spree and dumping their bodies in remote spots in seven parishes, police said.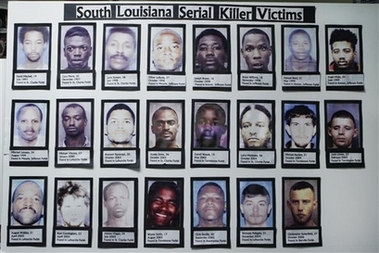 A poster made by the Terrebonne Sheriff's Office showing 23 people Ronald Joseph Dominique is alleged to have murdered is displayed at a news conference in Houma, La., Monday, Dec. 4, 2006. [AP]


Ronald J. Dominique, 42, was charged with nine additional counts of murder on Monday, bringing the total to 11 counts against him - 10 for first-degree murder and one for second-degree murder.
Terrebonne Parish Sheriff Jerry Larpenter said Dominique confessed to killing 23 men, all males between the ages of 16 and 46, between 1997 and 2005.
"He stated how, when and where they were killed," Larpenter said.
Joseph Waitz, the parish's district attorney, said his office will seek the death penalty against Dominique, who was being held Monday in Terrebonne Parish jail.
Dominique, who is indigent, has not yet been appointed a lawyer and did not have one present during questioning. Sheriff's officials say the confession is solid and that Dominique supplied details that hadn't been released and that only the killer and investigators would know. Authorities are investigating his claims and more charges are possible.
The victims' bodies were found in seven different south Louisiana parishes. All were found bound and had been killed in similar fashion, Larpenter said, leading investigators to suspect the work of a serial killer.
Authorities said Dominique said he had sex with each of the victims. Jefferson Parish Sheriff Harry Lee said investigators have DNA evidence linking Dominique to at least two of the killings.
Les Bonano, an investigator with Attorney General Charles Foti's office, said all 23 victims were homeless.
Larpenter said the biggest break in the case came within the past year, when a man told authorities Dominique had attacked him.
Family members of victims gathered outside the Houma building where authorities held Monday's news conference. Jodie LeBouef, the sister of victim Nicholas Pellegrin, cried and held pictures of her brother. Dominique has not been charged with his death.
"I'm glad they got him. I hope he gets the death penalty," LeBouef said. "My brother didn't deserve for anything to happen to him. My brother would do anything for anybody."