WASHINGTON: Unable to win Senate confirmation, UN Ambassador John Bolton will step down when his temporary appointment expires within weeks, the White House said Monday.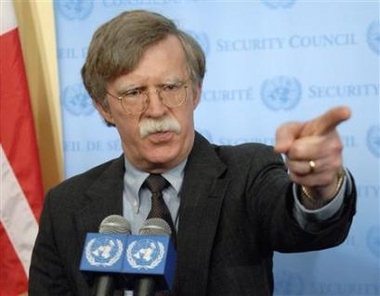 US Ambassador to the UN John Bolton speaks after the UN Security Council voted to require Iran to stop its nuclear program, at the United Nations in New York in this July 31, 2006 file photo. Facing opposition from key senators, US Ambassador to the United Nations John Bolton will leave office in a matter of days, the White House announced on December 4, 2006. [Reuters]


Bolton's nomination has languished in the Senate Foreign Relations Committee for more than a year, blocked by Democrats and several Republicans. Sen. Lincoln Chafee, a moderate Republican who lost in the elections Nov. 7 that swept Democrats to power in both houses of Congress, was adamantly opposed to Bolton.

Critics have questioned Bolton's brusque style and whether he could be an effective public servant who could help bring reform to the UN.

President George W.Bush posed for pictures with Bolton and commented curtly on his departure. "I received the resignation of Ambassador John Bolton. I accepted. I'm not happy about it. I think he deserved to be confirmed."

"They chose to obstruct his confirmation, even though he enjoys majority support in the Senate, and even though their tactics will disrupt our diplomatic work at a sensitive and important time," Bush said earlier in a written statement. "This stubborn obstructionism ill serves our country, and discourages men and women of talent from serving their nation."

Sen. John Kerry, a Democrat who lost to Bush in the 2004 presidential election, said Bolton's departure could be a turning point for the administration.

"With the Middle East on the verge of chaos and the nuclear threats from Iran and North Korea increasing, we need a United Nations ambassador who has the full support of Congress and can help rally the international community to tackle the serious threats we face," Kerry said. He said it was an opportunity for Bush to nominate an ambassador "who enjoys the support necessary to unite our country and the world and who can put results ahead of ideology."

Bush gave Bolton the job temporarily in August 2005, while Congress was in recess. Under that process, the appointment expires when Congress formally adjourns, no later than early January.

The White House resubmitted Bolton's nomination last month. But with Democrats capturing control of the next Congress, his chances of winning confirmation appeared slight. The incoming chairman of the Senate Foreign Relations Committee, Democratic Sen. Joe Biden, said he saw "no point in considering Mr. Bolton's nomination again."

While Bush could not give Bolton another recess appointment, the White House was believed to be exploring other ways of keeping him in the job, perhaps by giving him a title other than ambassador. But Bolton informed the White House he intended to leave when his current appointment expires, White House deputy press secretary Dana Perino said.

Bush said he accepted Bolton's decision with deep regret.

"He served his country with extraordinary dedication and skill, assembling coalitions that addressed some of the most consequential issues facing the international community," the president said. "During his tenure, he articulately advocated the positions and values of the United States and advanced the expansion of democracy and liberty.

Bolton, who pushed strongly for UN reform, has had strained relations with many in the UN Secretariat, led by Secretary-General Kofi Annan, and has repeatedly called for all top UN officials to leave when Annan steps down as UN chief on Dec. 31 and is replaced by Ban Ki-moon.

"I think Ambassador Bolton did the job he was expected to do," Annan said Monday when asked about Bolton's resignation. "He came at a time when we had lots of tough issues from reform to issues on Iran and North Korea. I think as a representative of the US, government, he pressed ahead with the instructions he had been given and tried to work as effectively as he could."

Highlights of John Bolton's career.

- Appointed by President George W. Bush as US Ambassador to the United Nations on August 1, 2005, bypassing the normal process of congressional approval after it was blocked by senators unhappy with Bolton's record.

- Under Secretary of State for Arms Control and International Security from May 2001 to May 2005, where he worked on nuclear proliferation issues.

- Assistant Secretary of State for International Organizations from 1989 to 1993 under President George H.W. Bush, and frequently visited the United Nations before and after Iraq's 1990 invasion of Kuwait.

- Assistant Attorney General, US Department of Justice, 1985 to 1989, He had previously held posts at the US Agency for International Development and worked as an attorney at law firms in Washington as well as serving as vice president of the Heritage Foundation, a conservative think tank.

- Born in Baltimore on November 20, 1948, Bolton graduated summa cum laude from Yale University and later received his law degree from Yale.

- He is married to the former Gretchen Smith, a financial consultant, and has one daughter.