WASHINGTON - US Sen. Hillary Rodham Clinton has made several key staff hires for her likely presidential bid and in her outreach to New York Democrats convinced at least one she soon would become a candidate.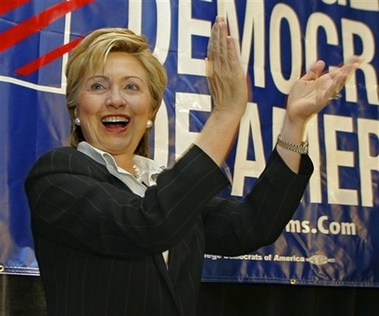 Sen. Hillary Rodham Clinton, D-NY,applauds during the annual convention of the College Democrats of America in Washington in this July 22, 2005 file photo. [AP]


"I don't think she ever outright said it, but there's no doubt in my mind that she's going to run," said Rep. Joseph Crowley, who spoke with Clinton on Monday. "It was a very exciting and exhilarating conversation. I don't know how often it happens in a lifetime when someone calls you up and says, 'I want you to know I'm doing this and I want your support.'"
The New York senator, who tops every national poll of likely Democratic candidates, had tried to keep private many of her overtures to supporters and new staff. The deliberations have started to become more public in the last week as the field of likely contenders has begun to expand.
Iowa Gov. Tom Vilsack declared his candidacy last week, and Indiana Sen. Evan Bayh said Sunday he was forming a presidential exploratory committee.
Illinois Sen. Barack Obama has attracted tremendous publicity around a possible run, vaulting to second place behind Clinton in many polls even though he is relatively new to the national political scene.
Obama's emergence as a potential contender has led some observers to suspect Clinton has stepped up her timetable for making a decision about a run. Her aides dismiss that notion, saying she is observing the timetable she has long planned.
Other likely candidates include 2004 nominee Sen. John Kerry; his vice presidential running mate, former North Carolina Sen. John Edwards; New Mexico Gov. Bill Richardson; and Sens. Joseph Biden of Delaware and Chris Dodd of Connecticut.
The Clinton team has added several top staff members. Karen Hicks, a veteran field organizer who served as New Hampshire director for Howard Dean's upstart 2004 campaign, will come aboard as Clinton's national field director. Phil Singer, a veteran of Kerry's presidential campaign who most recently was spokesman for the Democratic Senatorial Campaign Committee, will join the communications team.
"I'm going to do everything I can to help her if she decides to run. Hopefully, she'll make a decision soon," Singer said.
The campaign has also signed a national finance director, veteran Democratic fundraiser Jonathan Mantz.
The staff additions came as Clinton spoke to several members of New York's Congressional delegation about a possible presidential run, a process she began early last week. She also contacted Andrew Cuomo, the state attorney general-elect and son of former New York Gov. Mario Cuomo.
Clinton easily won re-election to the Senate last month. Throughout that campaign, she vowed she would not begin exploring a run for her party's presidential nomination until the midterm elections were over.