BAGHDAD, Iraq - Iraq's president on Sunday rejected suggestions that an international conference be held to address the violence wracking his country, echoing sentiments expressed by other leading politicians.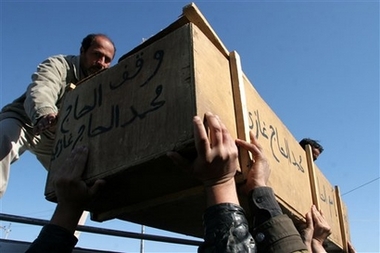 A coffin is delivered for funeral of a victim of the previous day's car bomb attack in Baghdad, in Shiite holy city of Najaf, Iraq, Sunday, Dec. 3, 3006. A triple car bombing struck a food market in a predominantly Shiite area in central Baghdad on Saturday, killing at least 51 people a day after a US-Iraqi raid against Sunni insurgents in a nearby neighborhood. [AP]


"We are an independent and a sovereign nation and it is we who decide the fate of the nation," President Jalal Talabani said after meeting with Rep. Christopher Shays, R-Conn.
The US military, meanwhile, reported that nine Americans died in weekend fighting in the Baghdad area and restive Anbar province, west of the capital.
A US airstrike flattened a building in Iraq's volatile west, killing two women and a toddler during combat that also killed six militants, the military said Sunday. It was the latest of several recent raids that have caused casualties among women and children.
Talabani, a Kurd, holds a largely ceremonial post. But his comments echoed those voiced by other politicians, including a leader from Iraq's Shiite Muslim majority, which is the dominant force in the US-backed government.
Foreign Minister Hoshyar Zebari questioned the aim of the international conference suggested last week by outgoing UN Secretary-General Kofi Annan. Zebari said it would only be welcome if it supported current efforts to solve Iraq's security problems and assist the government.
"Is it to take the political process back to square one and review all that is done in the past three years? If this is the aim, then we reject it," said Zebari, also a Kurd.
Abdul-Aziz al-Hakim, one of Iraq's top Shiite politicians, rejected the idea Saturday while in Amman, Jordan, saying it would be unrealistic to debate Iraq's future outside the country. He said Iraq's government was the only party qualified to find solutions.
| | | |
| --- | --- | --- |
| 1 | 2 | |