BAGHDAD - UN Secretary-General Kofi Annan said Iraq was in the grip of civil war as US and Iraqi forces attacked insurgent bases in a bid to shore up the authority of a government itself riven by factional rivalries.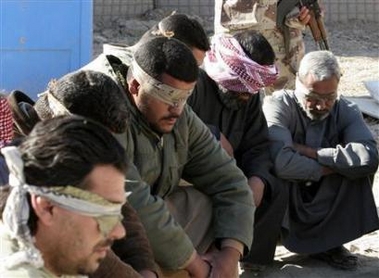 A group of suspected insurgents who were detained by joint US and Iraqi forces wait inside an Iraqi military camp near Baquba, 60 km (40 miles) northeast of Baghdad, December 3, 2006. [Reuters]


In Washington, outgoing Defense Secretary Donald Rumsfeld was revealed to have acknowledged in a memo just before he lost his job that US strategy was not working and it might be better to reduce troop numbers.

President George W. Bush has repeatedly rejected recent assertions in the mainstream media that Iraq is now embroiled in a civil war. Annan's remarks, to the BBC, might add to pressure for a swift change of policy.

"When we had the strife in Lebanon and other places, we called that a civil war -- this is much worse," Annan said.

He agreed with Iraqis who said life was worse now than it was under deposed president Saddam Hussein.

"If I were an average Iraqi obviously I would make the same comparison -- that they had a dictator who was brutal but they had their streets, they could go out, their kids could go to school and come back home without a mother or father worrying, 'Am I going to see my child again?" Annan said.

"And the Iraqi government has not been able to bring the violence under control," he added.

In western Anbar province, two US soldiers were killed by a roadside bomb on Saturday and three Marines died from wounds sustained from enemy action, the US military said.

The Rumsfeld memo, written a day before voter dismay over Iraq cost the Republicans control of Congress, said: "It is time for a major adjustment. Clearly, what US forces are currently doing in Iraq is not working well enough or fast enough."

Rumsfeld, a leading planner of the Iraq war, outlined several options but endorsed none.

Among them were reductions in US forces and bases and a recasting of the US goals there. He suggested cutting US bases to just five from 55 by mid-2007.

MARKET ATTACK

The presence of 140,000 US troops and the loss of more than 2,800 American lives in the past 3-1/2 years has failed to end bloodshed in Iraq.

Sectarian violence between Saddam's once-dominant Sunni minority and the newly empowered Shi'ite Muslim majority claimed a record 3,700 lives in October, the United Nations estimated, and the latest Iraqi data suggested civilian deaths rose by more than another 40 percent last month alone.

Fifty-one people were killed at a Baghdad market on Saturday by a triple car bomb attack, 10 days after the worst attack of the conflict killed over 200 people in the capital.

The Rumsfeld memo adds to a debate expected to gather steam when the bipartisan Iraq Study Group gives its recommendations on Wednesday. The group, co-chaired by former Secretary of State James Baker, a long-time Bush family adviser, is widely expected to inform a possible shift in US strategy.

RAIDS

In Iraq, US troops and the Iraqi forces the Americans are counting on to take on the burden of stifling civil war, were on the offensive in Baquba, a city 60 km (40 miles) northeast of Baghdad, the military said in a statement.

Baquba has seen Sunni insurgents, including al Qaeda Islamist militants, driving out Shi'ite Muslims, while Shi'ite militias have attacked Sunnis in surrounding areas. Three rebels were killed and 44 detained in the offensive, the military said.

Annan, who has proposed an eventual international conference on Iraq, which Baghdad's leaders have rejected, said Iraqis would have to unite to bring this about but needed outside help.

"But some of the key things they have to do is the constitutional review, really looking at issues of revenue sharing - oil and taxation revenues, how do you share it fairly," he said.