SUVA - Fiji's military commander has said he would quickly remove the government of Prime Minister Laisenia Qarase from power if he refused to resign, but rejected talk of imminent military action.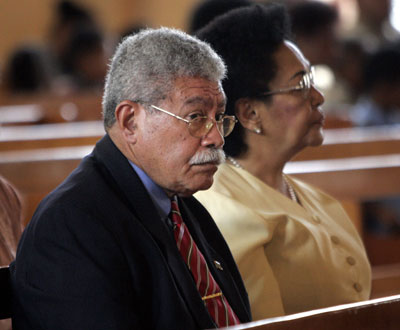 Fiji's Prime Minister Laisenia Qarase (L) sits during a Sunday morning service in the Centenary Methodist church in Fiji's capital Suva December 3, 2006. Qarase urged Fijians to pray for their country as he tussled for control of the South Pacific island nation with a defiant military chief who declared on Saturday that he is the boss. [Reuters]
Commodore Voreqe Bainimarama said a report in the Sunday Post newspaper, which claimed military action would begin early Monday, was "rumours".
"That is not true. We don't announce our intentions," he said in a Fijian language interview shown on television.
But Bainimarama, who has repeatedly warned the government to quit or face being replaced, said Qarase should resign now or the military would force him to do so.
Asked how long the military would wait before acting, he said: "Im telling you the quicker we do it, the better."
He refused to reveal any plans the military would have for taking power in what he has described as a "peaceful transition."
Bainimarama had set a deadline of noon Friday for the government to bow to the miltiary's demands, which include scrapping controversial legislation.
Two days on, the military has not yet taken any overt action to remove the government.
Bainimarama accuses Qarase's nationalist United Fiji Party government on being soft on plotters of the racially-fuelled coup of 2000 and of favouring the indigenous majority in the country over its ethnic Indian minority.
Tensions came to a head after he labelled talks with Qarase earlier in the week as a failure and rejected wide-ranging concessions from the premier.
The Sunday Post report, quoting government and military sources, said the capital Suva was expected to be sealed by military roadblocks at the start of the operation from 3:00 am Monday (1500 GMT Sunday).
It said the government would be dismissed and parliament dissolved and an interim administration would be installed to include some current legislators as well as former politicians, indigenous chiefs and soldiers.
Roadblocks would be set up on main roads in and out of the capital.
Bainimarama was quoted in the paper as saying the military was taking charge of law and order in the country instead of the police.
"The police have not done a good job in the past and now the military will take over in looking after the people and the nation," he said.
Acting Police Commissioner Moses Driver rejected Bainimarama's statement, saying the police were still responsible for law and order.
"It is illegal and unconstitutional for Mr. Bainimarama to take over the responsibilities of the police force in Fiji," Driver told the Sunday Times.