BAGHDAD, Iraq - Iraqi Prime Minister Nouri al-Maliki faced a widening revolt within his divided government as two senior Sunni politicians joined prominent Shiite lawmakers and Cabinet members in criticizing his policies.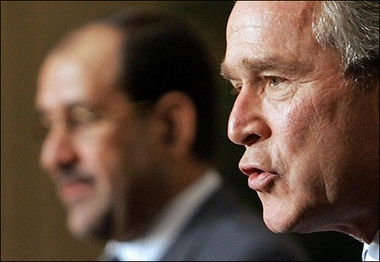 US President George W. Bush speaks during a joing press conference with Iraqi Prime Minister Nouri Maliki (L). Bush has praised Maliki as the "right guy" for the job and vowed US forces would stay on "to get the job done".[AFP]


Vice President Tariq al-Hashemi said he wanted to see al-Maliki's government gone and another "understanding" for a new coalition put in place with guarantees that ensure collective decision making.

"There is a clear deterioration in security and everything is moving in the wrong direction," the Sunni leader told The Associated Press. "This situation must be redressed as soon as possible. If they continue, the country will plunge into civil war."

Al-Maliki's No. 2, Deputy Prime Minister Salam Zikam Ali al-Zubaie, also a Sunni, argued that the president's government failed to curb the spread of sectarian politics.

A boycott by 30 lawmakers and five Cabinet ministers loyal to anti-American Shi'ite cleric Muqtada al-Sadr was in protest of al-Maliki's meeting with President Bush in Jordan on Thursday. The Sadrists said the meeting amounted to an affront to the Iraqi people.