AMMAN, Jordan - President Bush and Iraqi Prime Minister Nouri al-Maliki on Thursday opened talks originally set for the day before but canceled following disclosure of US doubts about the Iraqi leader's capabilities and a Baghdad protest of his attendance.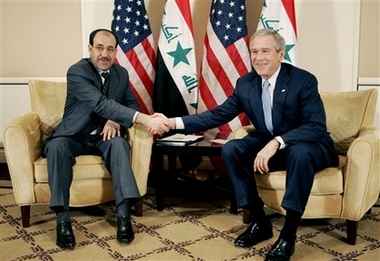 US President George W. Bush, right, shakes hands with the Iraqi Prime Minister Nouri al-Maliki, left, during their meeting, Thursday, Nov. 30, 2006, in Amman, Jordan. [AP]


Instead of talks over two days, the stunning turn of events found Bush and al-Maliki meeting for a working breakfast that was to be followed by a longer session and a news conference. The Iraqi prime minister came to Bush's hotel.

The abrupt cancellation of Wednesday's opening session was an almost unheard-of development in the high-level diplomatic circles of a US president, a king and a prime minister. Confusion - and conflicting explanations - ensued .

Bush had been scheduled to participate in a three-way session with al-Maliki and Jordan's King Abdullah II, rearranging his overseas itinerary to be in Amman for both days for talks aimed at reducing the spiral of violence in Iraq.

The last-minute scrub of those talks was not announced until Bush was inside Raghadan Palace and had posed for photographs alone with the king.

White House counselor Dan Bartlett denied that the delay was a snub by al-Maliki directed at Bush or was related to the leak of a memo written by White House National Security Adviser Stephen Hadley questioning the prime minister's capacity for controlling violence in Iraq.

"Absolutely not," Bartlett said." He said the king and the prime minister had met before Bush arrived from a NATO summit in Latvia. "That negated the purpose to meet tonight together in a trilateral setting."