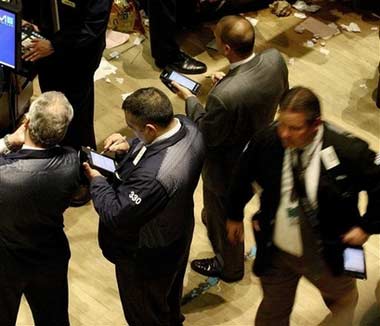 Traders are seen on the floor of the New York Stock Exchange in New York on, November 27, 2006. Wall Street suffered a sharp pullback Monday as investors returned from the Thanksgiving weekend with questions about the strength of the retail sector following a rare sales decline at Wal-Mart Stores Inc. [AP]


New York - Wall Street had its worst day in more than four months Monday as the dollar weakened and concerns about the strength of the retail industry arose following a rare sales decline at Wal-Mart Stores Inc. The Dow Jones industrials fell 158 points.

Investors were uneasy after the dollar fell for the fifth straight day and after Wal-Mart, the world's largest retailer, reported a 0.1 percent drop in same-store sales, those from stores open at least a year. Same-store sales are the industry standard for assessing a retailer's strength, and while overall retail sales appeared strong last weekend, Wal-Mart's first deficit in a decade raised concerns about the strength of consumer spending during the holiday season.

"There is now significant concern that the holiday retail season is going to underperform," said Gregory Miller, chief economist at SunTrust Banks. "Traffic doesn't necessarily translate into profits," he said, referring to reports of crowded stores over the weekend.

As the dollar's slide continued, it hit a 20-month low against the euro though it did for a time move higher against the Japanese yen. The dollar's fall raised concerns that foreign investors were sensing weakness in the US economy and would pull some of their investments from US markets.

Beyond the weak dollar and news from Wal-Mart, some retrenchment was to be expected as investors seek to preserve their profits after stocks have soared the past two months.

The Dow fell 158.46, or 1.29 percent, to 12,121.71, as 27 of the index's 30 stocks fell. It was the Dow's biggest slide since a string of triple-digit declines in mid-July that followed disappointing profit reports and a spike in oil prices amid tensions with Iran and North Korea.

Broader stock indicators also dropped sharply Monday. The Standard & Poor's 500 index fell 19.05, or 1.36 percent, to 1,381.90, and the Nasdaq composite index slid 54.34, or 2.21 percent, to 2,405.92.

Bonds rose, with the yield on the benchmark 10-year Treasury note falling to 4.53 percent, from 4.55 percent late Friday. Gold prices rose.

Light, sweet crude settled up $1.08 at $60.32 a barrel on the New York Mercantile Exchange. Crude prices gained ground after an attack on an oil facility in Iraq and comments by Saudi Arabia's oil minister that OPEC could consider further production cuts next month.

Wall Street appeared little moved by a report from the Federal Reserve Bank of Dallas that showed an index of manufacturing activity in Texas was essentially unchanged in November.

Investors examining retail reports tried to determine whether an increase in traffic at stores would translate to higher profits for retailers. Consumer spending accounts for two-third of all economic activity, and Wall Street is concerned that weak spending would prevent the slowing economy from achieving a soft landing.

ShopperTrak RTC, which compiles sales data, estimates sales rose 6 percent on Black Friday from a year earlier.

Regardless of the pace of retail sales, however, stocks have posted strong gains in October and November, making Monday's retreat unsurprising.

"A little bit of profit-taking is healthy at this point, said Jim Russell, director of core equity strategy for Fifth-Third Asset Management. "The market went up a little bit too far, too fast. Folks have made big money just in the past two or three months and are perhaps looking to lock in gains before the end of the year."

He contends that while the weak dollar and the Wal-Mart news caught Wall Street by surprise, investors shouldn't have fundamental concerns about the health of the market.

"Certainly a little bit of cold water has been thrown on the market with the results from Wal-Mart over the weekend," he said.

Miller remains concerned that the overall economy might be weaker than some investors had believed when they sent stocks higher in recent months. The Dow has closed at record levels 18 times since the beginning of October.

He also questioned whether retailers have run the risk of hurting profit margins by offering steep discounts to lure shoppers during an increasingly competitive Black Friday.

"The American consumer now expects that the holiday season isn't just a time to spend a lot of money but a time to get some bargains."

Wal-Mart fell $1.29, or 2.7 percent, to $46.61 following its report, while some retailers moved higher following reports of strong traffic in stores over the weekend. Lowe's Cos. rose 40 cents to $1.33.

J. Crew Group Inc. fell $3.07, or 7.1 percent, to $40.21 after a CIBC analyst lowered her rating on the clothing retailer based on valuation; the stock rose 27 percent last week following a strong profit report.

In other corporate news, Ford Motor Co. fell 36 cents, or 4.2 percent, to $8.16 after announcing it plans to obtain about $18 billion in financing to shore up its balance sheet and fund its restructuring.

Swift Transportation Co. rose 75 cents, or 2.7 percent, to $28.36 after the trucking company rejected an offer from its largest shareholder to acquire the company for $29 per share, or about $2.2 billion.

Several hotel companies lost ground after an AG Edwards & Sons Inc. analyst lowered his rating on the stocks to "Hold" from "Buy." Hilton Hotels Corp. fell $1.70, or 5 percent, to $32.10, while Marriott International Inc. fell $1.54, or 3.3 percent, to $44.91. Starwood Hotels & Resorts Worldwide Inc. was down $1.92, or 2.9 percent, to $63.46.

The Russell 2000 index of smaller companies was down 20.18, or 2.55 percent, to 772.10.

Declining issues outnumbered advancers by about 4 to 1 on the New York Stock Exchange, where consolidated volume came to 2.72 billion shares.

Overseas, Japan's Nikkei stock average closed up 0.96 percent. Britain's FTSE 100 closed down 1.18 percent, Germany's DAX index fell 1.77 percent, and France's CAC-40 was down 1.50 percent.