TALLINN, Estonia - US President Bush intensified diplomatic efforts on Monday to quell rising violence in Iraq and Afghanistan, turning to allies as his national security adviser said the conflict in Iraq had entered "a new phase" requiring changes.
"Obviously everyone would agree things are not proceeding well enough or fast enough," National Security Adviser Stephen Hadley told reporters aboard Air Force One as Bush flew eastward.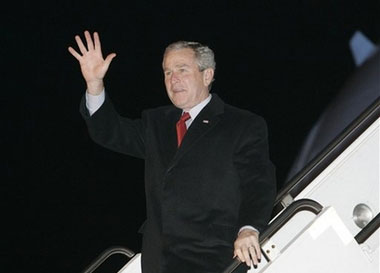 US President George W. Bush waves upon his arrival at Tallinn Ulemiste Airport, Monday, Nov. 27, 2006 in Tallinn, Estonia. George W. Bush became the first U.S. president to visit Estonia when he arrived in the Baltic nation late Monday on a brief stopover seen as a token of American gratitude for the tiny ally's unwavering support in the war on terror. [AP]


The president was spending Monday night in this tiny Baltic nation ahead of a two-day NATO summit in Riga, Latvia, expected to deal with deteriorating conditions in Afghanistan, where NATO has 32,000 troops.

Both Estonia and Latvia are former Soviet republics that are strong allies in the war on terror.

Bush will head to Amman, Jordan, for talks Wednesday and Thursday with Iraqi Prime Minister Nouri al-Maliki and King Abdullah of Jordan.

From Air Force One, the president spoke to the leaders of France and Egypt.

Addressing the upcoming meetings with al-Maliki, Hadley said, "We're clearly in a new phase characterized by an increase in sectarian violence that requires us to adapt to that new phase."