TEHRAN, Iran - Iran on Wednesday touted its weekend summit with the Iraqi and Syrian presidents, moving to secure a larger role in the region just as President Bush prepares to head to the Mideast for meetings on reducing American involvement in Iraq.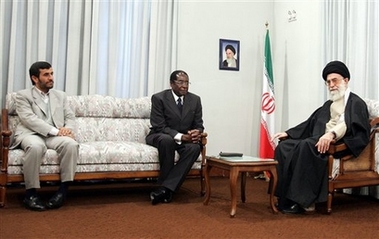 Iranian supreme leader Ayatollah Ali Khamenei, right, Zimbabwe President Robert Mugabe, center, and Iranian President Mahmoud Ahmadinejad, during an official meeting in Tehran, Iran, Tuesday, Nov. 21, 2006. A photo of Iran's late leader Ayatollah Khomeini, hangs on the wall. [AP]


The Iranian parliamentary speaker, Gholam Ali Haddad Adel, told the official Islamic Republic News Agency that Saturday's summit in Tehran is designed to bring Iran, Syria and Iraq closer together. "We hope the summit will boost relations between the three countries," he said.

Iranian analyst Ahmad Bakhshayesh said the government has more specific aims.

"Iran wants to increase its influence in Iraq," said Bakhshayesh, a professor of political science at Allameh University in Tehran. "It also wants to support the government in Iraq so it can stand on its own feet after the United States has withdrawn its forces."

The editorial writer in the conservative Kayhan newspaper went further, writing in Wednesday's edition that the summit would "shake the US president" as he faces strong disapproval of his war strategy.

The United States insists Iran and Syria are helping fuel the turmoil in Iraq, and it wants Iraqi leaders to send a strong message to Tehran to stop interference. Iran is believed to give backing to Shi'ite militias accused in Iraq's sectarian violence, and Syria is accused by the US of turning a blind eye to Iraqi insurgents that use its territory as a base.

| | | |
| --- | --- | --- |
| 1 | 2 | |