US is most unfriendly country to visitors - survey
(Reuters)
Updated: 2006-11-21 10:08
WASHINGTON - Rude immigration officials and visa delays keep millions of foreign visitors away from the United States, hurt the country's already battered image, and cost the US billions of dollars in lost revenue, according to an advocacy group formed to push for a better system.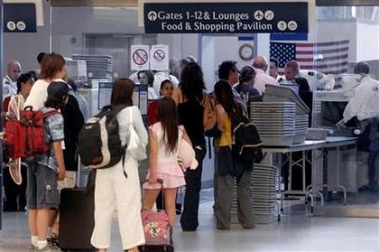 Passengers line up at a security checkpoint at JFK International Airport in New York August 10, 2006. Rude immigration officials and long delays in processing visas have turned the United States into the world's most unfriendly country for international travelers, according to a global survey released on Monday. [Reuters]


To drive home the point, the Discover America Partnership released the result of a global survey on Monday which showed that international travelers see the United States as the world's worst country in terms of getting a visa and, once you have it, making your way past rude immigration officials.

The survey, of 2,011 international travelers in 16 countries, was conducted by RT Strategies, a Virginia-based polling firm, for the Discover America Partnership, a group launched in September with multimillion-dollar backing from a range of companies that include the InterContinental Hotels Group, Anheuser Busch and Walt Disney Parks and Resorts.

| | | |
| --- | --- | --- |
| 1 | 2 | |
Most Commented/Read Stories in 48 Hours