BAGHDAD, Iraq - US and British forces were seeking information Friday about the hijacking of a convoy containing up to 14 civilians in southern Iraq.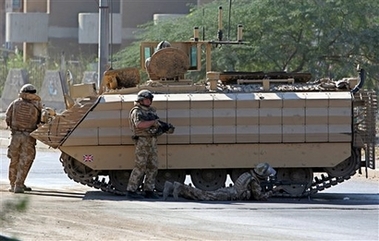 British soldiers aim their riffles as they take position behind an armored vehicle in Basra, Iraq's second-largest city, 550 kilometers (340 miles) southeast of Baghdad, Iraq, Thursday, Nov. 16, 2006. [AP]


In Washington, Pentagon spokesman Bryan Whitman said preliminary reports suggested the convoy attacked Thursday included about 19 vehicles.

An official familiar with the incident said preliminary reports being checked by the military indicated that the attack occurred at a checkpoint near Nasiriyah and that four Americans were believed to have been taken captive.

The official, who requested anonymity because of the security situation in Iraq, said it appears that some of the convoy drivers had been released, and were being interviewed by the military. He said initial reports suggested that the attack occurred at a checkpoint in a location where normally there is no blockade.

In the United States, NBC television reported that the kidnappers were wearing uniforms.



| | | |
| --- | --- | --- |
| 1 | 2 | |