HANOI - Vietnam rolled out the red carpet Friday as US President George W. Bush and other world leaders converged for an Asia-Pacific summit dominated by regional security and a drive for free trade.
Banners waved, the fountains were switched on and security was tight at the huge new 270-million-dollar convention center on the outskirts of Hanoi built especially for the Asia Pacific Economic Cooperation ( APEC) forum.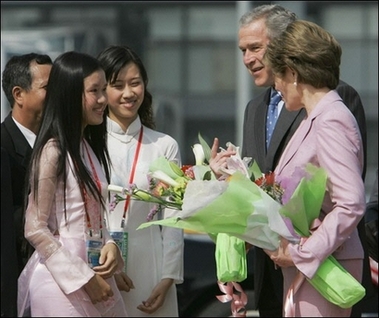 US President George W. Bush and First Lady Laura Bush chat with Vietnamese girls after they were presented with bouquets upon arrival at Noi Bai International Airport in Hanoi. [AFP]


Bush's visit is only the second by a US president since the fall of Saigon in 1975, but while tens of thousands cheered his predecessor Bill Clinton in 2000, the few people awaiting this motorcade were decidedly underwhelmed.

"I wish I could approach the US delegation just to have a look at Bush to see what he looks like," said Tran Do Trang, a 32-year-old state employee.

"I like Clinton very very much, because he was nicer."

Bush, who arrived in the Vietnamese capital early Friday, joins China's Hu Jintao, Russia's Vladimir Putin and Japanese Prime Minister Shinzo Abe for two days of summit meetings from Saturday, along with a flurry of bilateral talks.

The leaders of APEC's 21 member economies were expected to devote much of their time on how to restart negotiations on tearing down global barriers to free trade, which broke down in Switzerland in July.

The 149 members of the World Trade Organization (WTO) met Thursday for the first time since then, after APEC foreign and trade ministers told WTO director general Pascal Lamy earlier this week they were ready to break the deadlock.

Bush is also expected to push the idea of a cross-Pacific free trade zone stretching from China to Chile, seen by some as a "plan B" should WTO talks collapse and critics as an obstacle to APEC's own long-term trade goals.

The 21-member forum was launched in 1989 to discuss trade and economic issues but its agenda was later expanded to cover security issues, especially terrorism.

Regional efforts to combat bird flu, contingency plans to protect business in the event of a terror attack and emerging threats such as possible strikes on the area's food supply are also on the agenda here.



| | | |
| --- | --- | --- |
| 1 | 2 | |