SINGAPORE - Hurt by election losses back home, President Bush tried to exert his authority on the world stage Thursday by warning a nuclear-armed North Korea against peddling its weapons and vowing the United States would not retreat into isolationism.
The president then headed for Vietnam and Hanoi, the wartime capital of the once-divided country, in a visit that promised to stir inevitable comparisons between the unpopular war raging in Iraq and the divisive war fought and lost in Vietnam more than three decades ago.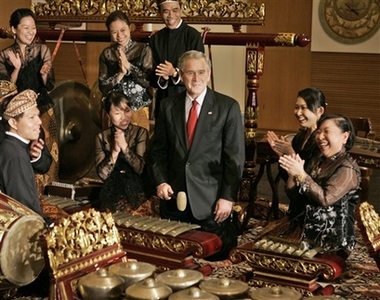 US President George W. Bush, center, is applauded by performers after he played the saron in a traditional gamelan orchestra during a tour of the Asian Civilizations Museum in Singapore Thursday, Nov. 16, 2006. Bush will also attend the annual Asia-Pacific Economic Cooperation summit in Vietnam and visit Indonesia before returning to the United States. [AP]


Bush's words on North Korea and isolationism came on the eve of his trip to Hanoi to attend a summit of Asia-Pacific leaders and to hold individual meetings with a handful of them - all curious about whether election setbacks had unsettled him. Striking moments for Bush in Hanoi will include a visit Friday to Communist Party headquarters for talks with the party's general secretary.
Bush directly challenged newly empowered Democrats in the US who are demanding a fresh course in Iraq and are fearful that free-trade agreements could cost American jobs.
"We hear voices calling for us to retreat from the world and close our doors to these opportunities," the president said in a speech at the National University of Singapore. "These are the old temptations of isolationism and protectionism, and America must reject them."
Bush will turn to personal diplomacy in meetings Saturday and Sunday with Russia's Vladimir Putin, China's Hu Jintao, Japan's Shinzo Abe and South Korea's Roh Moo-hyun. All are partners with the United States in talks aimed at persuading a defiant North Korea to abandon its nuclear weapons.
While North Korea's recent nuclear test has been widely condemned, the 21 members of the Asia-Pacific Economic Cooperation forum appeared divided over what to say publicly.
Meanwhile, Secretary of State Condoleezza Rice, who went to Hanoi a day ahead of the president seeking a consensus, said Thursday that North Korea must come to new disarmament talks ready to deal - or there is no point in holding such a session.
"I do think that after having set off a nuclear test that the North Koreans need to do something to demonstrate that they actually are committed to denuclearization that goes beyond words," Rice said. "Because after having set off a nuclear test, there's some skepticism about that."
| | | |
| --- | --- | --- |
| 1 | 2 | |